Hey, Guys, Another Amazon Riddles Quiz is Here it's a Riddle You have to Think a deep to correct the answers but no worries I have added answers below Just Watch here and Fill the Quiz if You Won You could get Rs.5000 Amazon Pay Cash.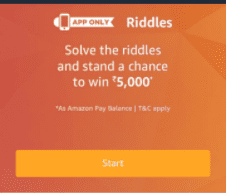 Q.1 I Have hearts But No Other Organs, What am I?
Answers: A Dack Of Cards 
Q2.How Many Months Have 28 Days?
Answers: All 12 Months
Q.3We are Five Little Items of an everyday Sort; You will FInd us all in 'a Tenis Court'. What are We?
Answer: Vowels
Q.4What has Cities but No House; Forests, But No Trees; and Water, but No Fish?
Answer: A Map
Q.5 What gets wetter and Wetter the more it dries?
Answer: Towel