–>

Complete a Small Task & Get Guaranteed Rs.1-5 PayTM Cash Read Steps
PayTM Mobile Number:
Referral Code :

Join Telegram Channel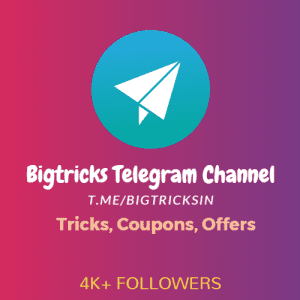 Video - How to Get payTM cash
Enter Your Paytm Number & You will be Redirected to Wego Flight Search page.
Enter Source & Destination City.
Now Click on any Deal & you will be redirected to the Flight Booking Page.Now Click on View Deal. You don't need to anything, here you will get PayTM Cash of Rs.1 or more Guaranteed.
You can reshare this offer with your friends. Your referral code is BZ(Your mobile number ) e.g - BZ9587035595
Terms & Condition:
1. The Offer is available once per user Exclusively for Bigtricks Followers.Press the Red Bell Icon from Right Bottom to get Instant Notification or Join Telegram Channel
2. You Can Get This Offer Once Per User.
Refer & earn -
Telegram Channel Admins or Youtube Channel Admins can contact at support@bigtricks.in for Referral link & Better Offer. You will get instant Replies so don't worry.
Your Referral Code is BZ-(Your PayTM Number) like BZ1234567899
You will get Rs.10 for every 10 referrals.
Referral rewards will be credited the next day to the user's wallet.
Minimum PayTM transfer for Referral is Rs.30 or 30 Referral.
For More information contact at support@bigtricks.in