WOW immunity Box Freebie Offer
Hello Friends, We are back with a new freebie where you can order Wow's Immunity box worth 674 for free. You just need to follow the below steps and get a unique voucher code. you can visit the wow website and order it for free, you just need to pay the delivery charges of ₹49.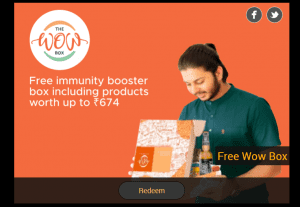 The box will have 9 products and the delivery will be available in selected major cities only if your city is not listed then just put the Pincode which city is listed. You can also checkout-free Dabur Immunity and Free Colgate Freebie
What Wow immunity Box includes
A packet of 24 Mantra organic turmeric – Rs. 40
A bottle of Hello Aloe Herbal Sanitizer – Rs.70
A packet of Tea Monk Tea – Rs. 40 (From a choice of 5 flavors)
A bottle of Dr. Vaidya's Vitamin C Tablets – Rs.300
2 packets of 24 Mantra Herbal Tulsi Infusions – Rs. 15
Coco Nirvanaa Instant Coconut Water Powder – Rs. 20
A packet of LIVitup Hangaover Shield – Rs.80
A bottle of AndMe Kavach Immunity Drops – MRP Rs. 199
How To Order Free Wow Immunity Box With Timespoints
1. First of all click on the below link and just visit the Timespoints offer to redeem page.
2. Now log in and click on the redeem page. You will get a coupon code.

3. Now visit the below link or click on the avail offer and you will be redirected offer page.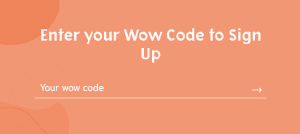 4. Now apply the code and proceed to add to the cart.
5. Pay Rs.49 Shipping charges and complete with address
Delivery limited to Delhi NCR, Bangalore, Mysore, Chennai, Hyderabad, Coimbatore, Ahmedabad, Jaipur, Mumbai, Navi Mumbai, Thane, & Pune
6. Now wait for 10 days for the delivery
---
Terms  & Conditions
Offer valid till Jul 31, 2021
Click Here to visit The Wow Box offer page
Delivery limited to Delhi NCR, Bangalore, Mysore, Chennai, Hyderabad, Coimbatore, Ahmedabad, Jaipur, Mumbai, Navi Mumbai, Thane, & Pune
Delivery Period – 7-10 working days from the date of the box booked
We have limited boxes. Pick any combo of 7 products on a first come first serve basis.
The Minimum value of each Wow Box will be Rs.255 and the maximum value will be Rs.674.
A delivery fee of Rs.49 will be charged.
The offer is valid for all users.
The wow code is valid ONLY ONCE per user during the offer period. (Dec 2020 – Jul 2021)
The coupon is non-transferable and cannot be clubbed with any other offer.
Orders once placed cannot be altered or canceled.
All other T&C shall be applicable as mentioned on the merchant website/app.
No cash component can be given as a refund.
The offer is open to all Times Points Debit Card holders whose accounts are valid.
This offer will not be valid in conjunction with any other scheme or offer.
Times Internet Ltd. & HDFC Bank reserve the right to reject, modify, or withdraw any promotional offer, at its sole discretion, at any time without giving any prior notice thereof to the cardholders.
It shall be the sole responsibility of the cardholders to check on the website (www.hdfcbank.timescard.com) of "Times Points Debit Card" for updates on the promotional offer and for updated terms and conditions.
Availing of any offer by the cardholder shall mean that the cardholder has read, understood, accepted, and agreed to abide with all the terms and conditions of the offer along with all its amendments if any.
Times Internet Ltd. & HDFC Bank will not be responsible for any unavoidable circumstances or any other reason of whatsoever nature that may be faced by the cardholders while availing any offer at participating outlets.
This offer is brought to you by the participating merchant. Times Internet Ltd. & HDFC Bank are neither responsible for goods/services offered by the participating outlets nor are they liable for any defect or shortcoming of facilitating the process of the goods/services so obtained/availed or redeemed by the Times Points Debit Card holder.
Any dispute regarding service or quality of the offer and/or products/services under the offer must be addressed in writing, by the Times Points Debit Card holder directly to the participating outlet, and Times Internet ltd and HDFC Bank will not entertain any communication in this regard.
All disputes arising out of this promotion shall be subject to the exclusive jurisdiction of competent courts in New Delhi.