Supersmelly Freedom Sale – Hello Folks, I hope you are enjoying our Tricks and offers. Supersmelly, Recently Offered Free Pocket Deodrant and Now We are here back with New Supersmelly Offer where You Can Buy Hand Sanitizers, DeoDrants and Other Beauty Stuff Worth Rs.999 For Free

Supersmelly is a Self-made Brand SUPER Smelly Products are 100% Toxin Free and They Produce Safe Quality Deodrants and All other Beauty Stuff. it contains nothing but natural ingredients, handpicked by a meticulous mother (bordering on fussy) for kids across the country. Even the certification company, Safe Cosmetics Australia says so! I never have to choose between safe and effective for my child. Ever. And neither do you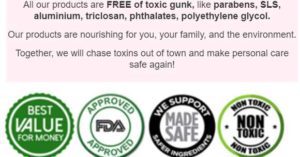 About The Offer
Supersmelly Freedom Sale is Offering Rs.500 Cashback on Shopping of Rs.999. Additionally, You can get Rs.500 Cashback on Shopping of Rs.600 or More from Cashbig.in [ Owned by Bigtricks ]. So total You will Get Rs.1000 Cashback. You Can Withdraw to bank the Cashbig Cashback of Rs.500 After Return period is Over basically in 20 – 45 Days and The Cashback From Supersmelly will be credited to your wallet post 14 Days of Delivery which you can use 25% To Place Next order. So Let's See How To Proceed.

Tip – The Best Part Is You Can use Your Amazon Pay Balance. You Can Also Place Order of Rs.600 Still, You will get Rs.500 Cashback in Cashbig.
---
How To Get Rs.500+450 Cashback From SuperSmelly and Cashbig
For Any Query Regarding Cashbig.in, You can ask from comment or telegram at @cashbig_helpbot. You will get a reply instantly
1.First of All Visit Below Link of Cashbig Cashback Page.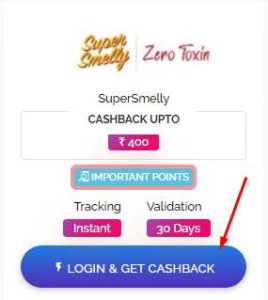 2.Now Create Your Account and Complete the Signup Process.
3.Now Click on Activate Cashback button and You will be redirected to Supersmelly Website. [ Do Not Open Directly Use Cashbig to Redirect on Supersmelly ]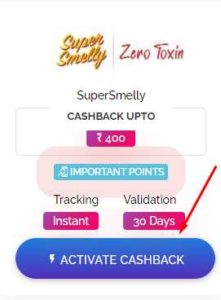 4.Once you are here, Now Order anything and Add to Cart
6.Don't Apply Any Coupon Code for the Supersmelly Cashback. The Order Value must be greater than Rs.599 for Cashback of Rs.500 From Cashbig
Two Options 
1.Order Worth Rs.600 From Supersmelly & Get Rs.500 Cashback in Cashbig [ Bank Withdrawal ]
2. Order Worth Rs.999 and Get Rs.500 in Supersmelly Wallet & Rs.500 in Cashbig Wallet[ Bank Withdrawal ]
Now Place Your Order and Pay using Amazon Pay [ Best option ]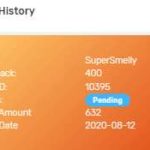 7.Once You Place the Order, You will Get SMS From Cashbig Mentioning that Your cashback has been added to Cashbig Wallet.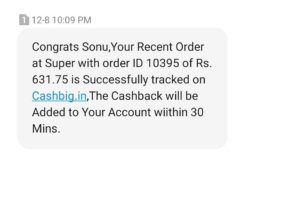 8.Now in 14 Days, Supersmelly Cashback will also get credited.
9.Use Super Smelly Cashback to Order anything from their website.
10.You Can Withdraw the Cahsbig wallet Balance to UPI or PayTM after 20 Days to 30 Days.
---
Deal – 6 Sanitizers at Just Rs.150 with 3 Pocket Perfume
1.We have a new deal for you, You can Place Order for 6 Sanitizer with 3 pocket perfume at just Rs.150 after cashback
2.First of all, visit the Store link on cashbig
3.Now create your account and click on Activate cashback
4.Now you will be redirected to supersmelly website
5.From here add Sanitiser in your cart. – Add 6 at Rs.600
6.Now Proceed to checkout and 3 Perfume sticks will be added to cart.

7. Now pay using CASH ON DELIVERY [as the order value should not be less than 600 for cashback ] if your final value is more than 600 then you can pay using Online payment where you will get extra 5% discount
Options 2- If You Don't Want Perfume sticks then you can Apply promo Code SAVE10 to Get Extra 10% Off and 5% during Checkout
Once you place the order Rs.450 will be added to cashbig account which you can redeem after confirmation.
Cashbig is by bigtricks.in which means if you have any query you can ask us.
Suggestions –
Buy sanitizers [ Cost Rs.100 for 100 ml ]
Buy Toxin-Free Deodrants