Amazon Prime Price:- Recently A News is Rolling out on TImes of India Newspaper saying Amazon to Increase its Prime membership Price In India.Currently Amazon Prime membership is Available for Rs.499 Per year Inclusive all Taxes, That price might Increase to Rs.999 Soon So, guys, If You have Not Purchased Amazon prime membership yet and wanna Purchase Do it Now later You will have to Pay just Double price Currently there are Two offers Running To Get Rs.250 Cashback On Purchasing Amazon Prime membership for 1 Year that I Have Mentioned in below Posts.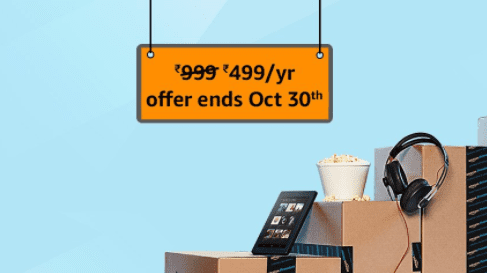 Amazon Indiawill soon double the price of its popular subscription service Prime in India to Rs 999 per year. Prime was launched in July last year at an introductory price of Rs 499. Since then, the company has said that Prime has been its top-selling product during major sale events. Even after the price increase, the Prime subscription will be significantly cheaper than in the US, where it is the equivalent of about Rs 6,000 a year.
 -Times of India
As A Prime Member, you Get Free 1-Day. 2-Day Delivery, Early daily Deals access, Unlimited Live Video Streaming and lot more Exclusive Offers for Prime members.
Here are The offers Currently Live on Amazon.in TO Get Amazon prime membership For Just Rs.250
Amazon prime: Buy Amazon prime using Gift Card And Get Rs.250 Amazon Cash Free