Hello Guys ,hope you are enjoying The Amazon Great Indian Festival sale. it's day 3 And amazon sale is offering more lot deals day by day . this will be continue to 5th October. today's loot deal i found , is now buy Apple Iphone 6S Or Apple Iphone 5S 16Gb At rs . 29999 And 17999 Respectively in flash sale at 5.00 PM . this offer will be available only for amazon prime customers . so you must be an amzon prime customer in order to avail this offer. so let's see how you can get this offer at 5.00 Pm.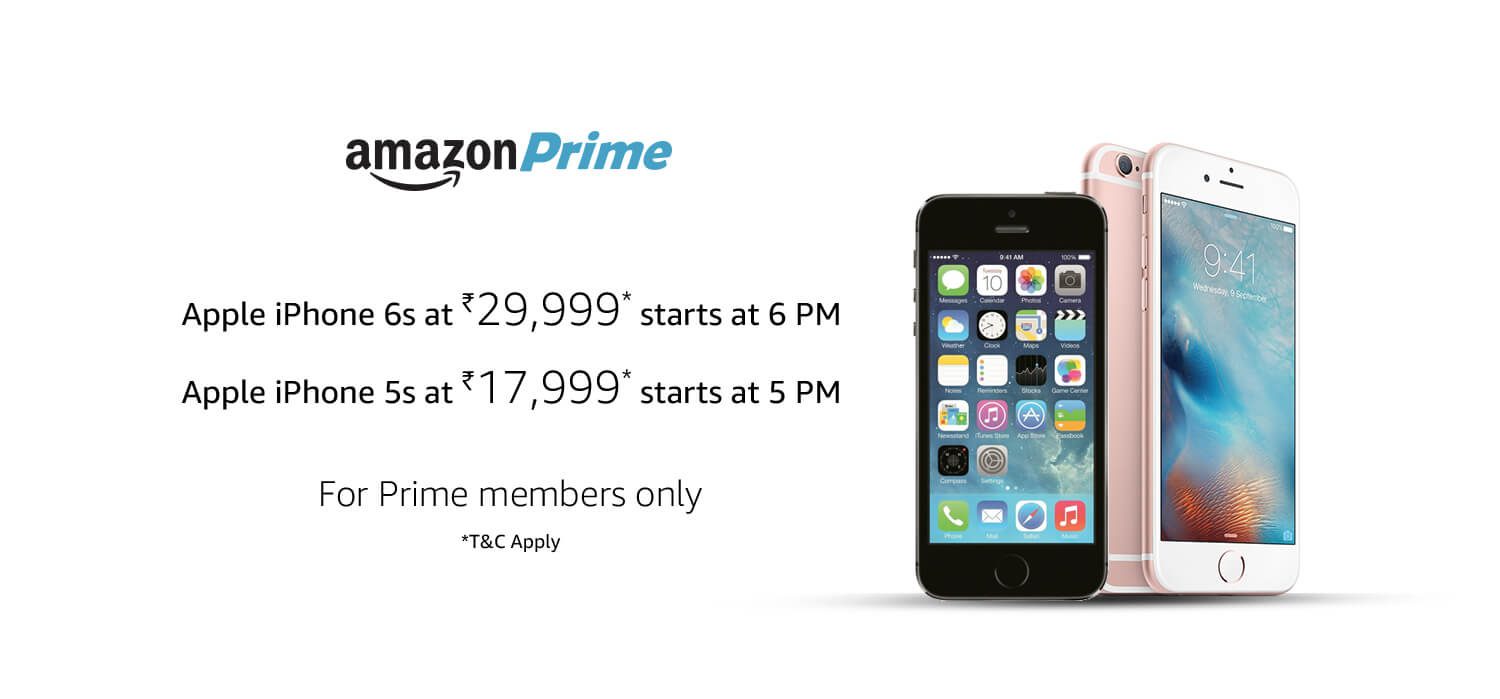 iPhone 6s and 5s 16GB for Rs 29999 & 17999 for Amazon Prime members only starts 6PM / 5PM on 3rd October (additional 15% on
APP

/ 10% cashback for

HDFC

cards)
Now Click on amazon Prime
Subscribe for amazon prime .
Now Add products to cart .

pay the final amount .
T&C:
This offer is available only for Amazon Prime customers (paid and trial memberships).
Offer available only on select variants
Offer applicable on limited stocks from select seller(s) for limited period.
FAQs:
1. What is Amazon Prime?
Amazon Prime is a membership program that offers multiple benefits to members, including FREE fast delivery on Prime eligible items, early access to deals and more. From time to time, Prime members also have exclusive access to select lightning deals or deals of the day.
2. What do I need to do to get this iPhone offer?
This deal is exclusively for Prime members. As a member, log into Amazon.in at or before the deal start time called out, look for the deal item to buy it! Quantities are limited and it's fastest fingers first. So make sure you are quick!
3. I am still in my Prime free trial, will I still be able get this offer?
Yes, you will be able to purchase the deal. As long as the item is not yet on waitlist or sold out, you will see an "Add to Cart" option to purchase the deal.
4. I am not yet a Prime member or I decided to not join – can I still get this offer?
Yes, you can still get this offer too. Join Prime ahead of time to make sure you are ready to buy the offer quickly. Don't miss out!
5. If I am a Prime member, does this mean I will definitely get the deal?
All Lightning deals have limited quantities and are available only while the stocks last. It is possible that the deal could sell out within minutes before you place the order. Prime membership does not guarantee that you will be able to purchase a particular deal, just that you will be eligible to purchase the deal.