Hi There, This is Yash and Welcome to BigTricks. So Let's get to point I have got 5 of the Personal used Jio Speed Increase tricks for you listed below. Enjoy.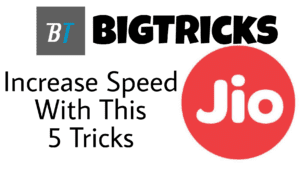 These are all the 5 tricks :-
1. Apn Trick
Name – bigtricks.in
APN – jionet
APN Type – Default
Proxy – Not Set
Port – Not Set
Username – Not Set
Password – Not Set
Server – www.google.com
MMSC – Not Set
MMS proxy – Not Set
MMS port – Not Set
MCC – 405

MNC – 857, 863 or 874
Authentication type – Not Set
APN Protocol – IPv4/IPv6
This'll not work for all but don't worry we have more Tricks.
2. Speed Booster and Optimiser App
Firstly, Download and install Internet Speed Booster & Optimizer app. Download Now.
Enable the profile 'Non-Root User' or 'Root user' depending on your device root option.
Just leave it by running the app in background.
This App will increase Jio 4G speed in few seconds.
You get highest, maximum browsing & downloading, Uploading speed which is available in your current location.
3. Speed Increase for Online Video Streaming
1. Firstly Download Internet Speed Meter lite app from Google Play Store.
2. Install JioTV application in your device > Launch any Channel > Set Quality to High.
3. Keep on checking the speed meter and you'll see a big boost in your Jio speed.
4. This will give you Good Speed For Online Streaming Videos on YouTube and o  Applications Like Hotstar, Voot etc.
4. Vpn Trick
1. Download Any VPN From Google Play store eg.Turbo VPN, Snap VPN etc.
2. Open The VPN and Connect any GERMANY Server / USA server/Canada Server etc. But other than India Server i.e. Premium Country Server.
3. Wait Untill It connects.
4. Done You will See Improvement in your Jio 4g Sim.
5. Enjoy High Speed Internet In Your Jio 4g Sim.
5. Clearing Cache
1. Go To Your Settings.
2. Then visit Storage and USB.
3. Under Internal Storage  tap on cached Data.
4. Click on Ok and your cache will be cleared.
5. Done, Now you'll see improvement in your Jio 4g Speed.