BSNL Rs249 Plan :- BSNL Again come up with a New Blas Broadband offer . BSNL now Offering 10 GB Data at 2mbps Speed for a Price of Rs.249 per month . that's Rs.1 for 1.2 GB data,making it the most inexpensive BSNL broadband plan (with a minimum speed of 2Mbps) of all time!
well, Not only Data BSNL also offering free Voice calls to any network with some tnc .  the new BSNL plan also offers unlimited voice calling on Sunday and unlimited night calling between 9pm to 7am — not just on BSNL's own network but on any telecom network operating within India.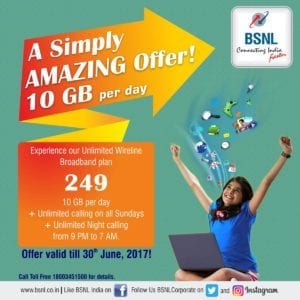 Since Septmber we have seen many offers for data as well as calls cellular rates are falling continuously after JIO' s Launch. BSNL always give users very cheap data plans this is one of them .
Well ! This Offer is for BSNL Broadband Customers only 
Features of BSNL 249 Plan :-
You will Get 10 GB Data Daily at Speed 2Mbps .

Unlimited callings are Only for Sundays , From Monday to Saturday you can avail free calling From 9PM to 7AM .
This Offer is Valid till June 2017.
Terms & Conditions for BSNL Experience Unlimited BB249 plan:-
This Offer Is Solely Applicable To New BSNL Broadband Customers
This Plan Will Also Be Available On FTTH With The Same Tariff
As Per The Promotion Period Installation Charges Can Be Waived Off
Rest Of All The Charges Will Remain Unaffected
Bharat Sanchar Nigam Limited © (BSNL) Wholly Reserves The Right To Change The Terms And Condition Any Time
For More Info : go to BSNL>CO>IN