Pendrive as RAM
Hey Guys welcome back again to bigtricks. We are back again with an new and interesting tech tip. Now a day every new computer comes with high RAM. But mostly people have old computer and mostly computer didn't support high RAM disk. So by this simple trick you can easily increase the RAM of your computer. This method is portable means you can increase or decrease it any time. So now without wasting any time let's start.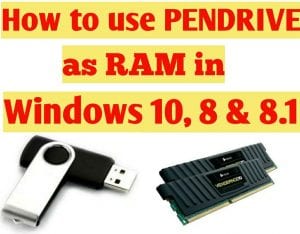 Increase RAM in Windows 10, 8 & 8.1
So guys this method requires a good and any quality Pendrive. In this method I will show you how to use Pendrive as a Portable RAM. This method didn't increase any physical RAM of your computer. It is just a virtual RAM. By this method you can easily play high Graphics games and can use high data softwares. So below are the steps:-
Insert the pen drive into the USB port.
The pen drive should have at least 1 GB available to convert it into RAM.
For Best performance, I will recommended to use a formatted device. To do that, right click on the Pendrive Folder device and select "Format…"
Check the box "Quick Format" and click on "Start".

Once formatted, right click on the storage device and select "Properties" from a drop-down list.
Click on "ReadyBoost" option.
Select the option "Dedicate this device to ReadyBoost" to use maximum available space on the device as RAM. Bit, if you don't want to use the whole capacity of the pendrive as RAM then click on "Use this device" and select the space you want
Now click on "Apply" and then "OK" to save changes.
Restart windows to apply the changes.
 HowTo revert Pendrive from RAM to storage device
If you want to Revert your pen drive back into a storage device, follow the steps given below to revert it:
 Right-click

 on the removable storage device and go to "Properties".
Go to "ReadyBoost" and select "Do not use this device".
Click on "Apply" and then "OK" to save changes.
Format the pen drive again.
Restart windows to apply the changes.
Warning!!
 I will recommended that users who are running on a 32-bit system with 2 GB of RAM should not try this method as the maximum limit for physical storage in a 32-bit system is 2 GB. And users who are running 64-bit system can increase RAM up to 512 GB.