Jio Summer Surprise Offer :- Jio Recently announced a good news , Jio Extended the Prime activation date till 15 April 2017 also launched Jio Summer Surprise Offer .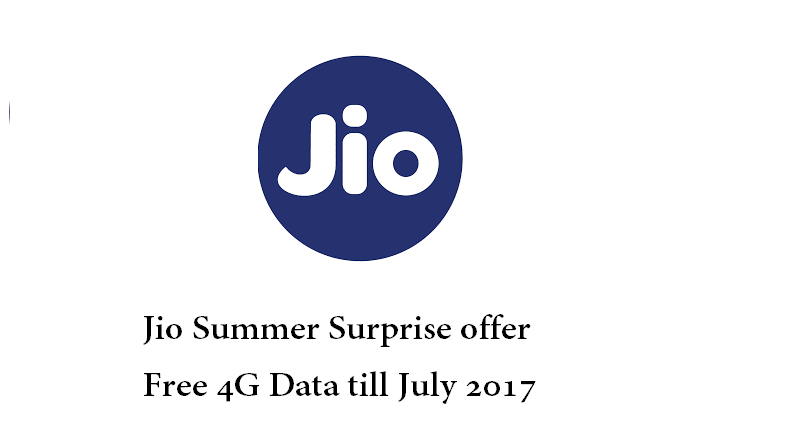 Summer surprise offer is for Jio prime users , Jio announced that All Prime  users who recharge with rs. 303 will get A compliment free 4g service for next 3 months.You can avail this offer by activation Jio Prime membership for Rs. 99 49 only by using our Jio Phonepe trick .
Jio also announced the Jio Summer Surprise for its JIO PRIME members. Every JIO PRIME member, when they make their first paid recharge prior to 15th April
using Jio's Rs 303 plan (or any higher value plan), will get services for the initial 3 months on a complimentary basis.
Details of Jio Summer Surprise Offer :-
In Jio Summer Surprise Offer – Jio Prime Users Will continue Using Free Jio 4G Services Like Free Unlimited 4G (1 GB Limit Post Usage Unlimited) , Unlimited Free Calling , SMS , Free Live TV Streaming , Movie Streaming With JioMovie App Etc. Till July 2017
You can Recharge Your jio Number with Rs. 303 till 15th April to Avail this service .
Once you recharged you will get One Month Benefits + Additional free three month Activation of Same offer .
The activation process is same as Recharge .
The paid plans will be activated after july .
Note that The Above Jio Summer Offer is Only for Jio Prime users . so if you have not activated Jio Prime yet go ahead and Activate Jio Prime Memberships.
According to Jio Chairman :-
"I want to personally thank you for choosing Jio, and for being a founding member of the Jio movement. A movement to transform India. A movement to empower and enrich each one of you with the revolutionary power and possibilities of Digital Life," said Mukesh Ambani, Chairman of Reliance Industries in a press statement.
He also said Jio has created the world's largest greenfield 4G LTE wireless broadband network, with over 100,000 mobile towers. Ambani added that the company will add another 100,000 towers to their network in the coming months, and will be investing over Rs 200,000 crores, which is the largest anywhere in the world.