Google Pay Play Tez Shots & Win Scratch Cards – Hello Guys, Google Pay is Here with a New Fun Offer. Here in Google Pay' Latest Version of the app, You Can Play Cricket Games and score. Based On the Score You Will get various Scratch Cards. You Can Get A Random amount of Cashback on Specified Transactions.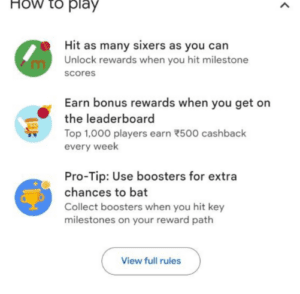 You will Earn various scratch cards on milestones for example if you hit 6 sixes in one go, You will earn Rs.10-100 Cashback on any transaction with gpay and this goes on further. Gpay released the Google Pay Tez Shots offer a while ago where you got rewards like Peter England vouchers and lots of other things. This time only Sizes will be counted.
The rewards that users can earn from the Tez Shots offer include:
₹10–₹50 in cashback offers or electricity scratch cards for hitting a high score of 6 sixes in a game.
₹20–₹100 in cashback offers or electricity scratch cards for hitting a high score of 20 sixes in a game.
Rs 500 in cashback offers for being in the top 1,000 players on the leaderboard at the end of each week.
How To Play Google Pay Tez Shots & earn Scratch Cards
Download Latest version of Google Pay App From Playstore – Download Google Pay
Now Complete Your Signup & Bank Linking process, if You are a New user Send Rs.1 to any of your friends to get an additional Rs.51 Cashback.

Now Click On The Google Pay Tez Shots Link & Open it in Google Pay App.
Now Read the Rules and start Playing Cricket in Google Pay.
You Can Start the Match and score as much as you want.
For First 6 Sixes, you will unlock a scratch card that will offer Rs.10-100 cashback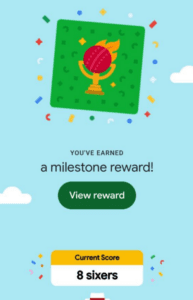 7. Complete Your transaction and you can get upto Rs.50 any amount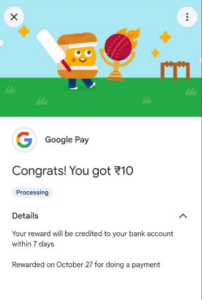 8. Next milestone is on 20 Sixes for Rs.20-100 Cashback.
9. Top 1000 users with highest score will win assured Rs.500 cashback
Terms & Conditions
The Tez Shots offer is subject to the following terms and conditions:
The offer is available to all Google Pay users in India, except for those in Tamil Nadu and those who have already earned Rs 9,000 in rewards during the current fiscal year.
Users can play the Tez Shots game as many times as they want during the offer period.
Users will earn rewards for hitting milestones in the game.
Users need to complete qualifying transactions to unlock the scratch cards.
Rewards will be credited to users' Google Pay accounts within 24 hours of completing the qualifying transactions.
Rewards can be redeemed for cashback offers or electricity scratch cards.
Rewards can be used to pay for goods and services at merchants that accept Google Pay.
Google reserves the right to change or cancel the offer at any time.
---
---