Hello Guyz Phonepe Again Come up with a New Offer For Vodafone Users. Phonepe Offering 100% Cashback on Vodafone Super Hour Packs and Super Day Packs  In Which Vodafone Offering Unlimited Calling & Unlimited 4G Internet For Limited Time In Day.The Phonepe Offer is valid till 13th June 2017 and Valid for Once per User.You will get 100% cashback upto Rs.50 .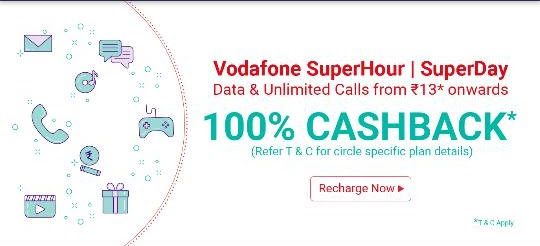 Phone still have many loot offers like Refer And Earn Rs. 50, Rs. 150 cashback on First Transaction and Many more .You can search in Bigtricks for Respective offers.
valid Plans Details:-
4G Circles | Unlimited local + std V2V calls and 100MB 3G/4G Data (4G Handset) 50MB for Other Handset for 1 day.
ICR Circles | Unlimited local + std V2V calls and 100MB 2G Data for 1 day. Amount Circle ₹13 Karnataka, Odisha ₹14 Madhya Pradesh ₹16 West Bengal (Excluding Kolkata) ₹18 Delhi, Haryana ₹19 Andhra Pradesh, Assam and North East, Bihar, Kolkata ₹21 Chennai and Tamil Nadu, Himachal Pradesh, Jammu & Kashmir ₹22 Punjab, Uttar Pradesh (East) ₹23 Kerala, Maharashtra and Goa, Rajasthan, Uttar Pradesh (West) ₹24 Gujarat and Mumbai
Super Hour
How to Get 100% Cashback From Phonepe app:-
First of All Download The Phonepe App From Here (Download From here to get Cashback).
Now Install and Open the App .
Now Enter Your Mobile Number, an One time Message will be send to verify your device
Create a new Account and choose your bank account.
Generate M-Pin and Complete Registration process.
Now initiate a Vodafone Transaction With above Price.
Complete Transaction and you will Get cashback Soon.
Terms And Conditions:-
If the offer overlaps with other existing offers, only one cashback will be applicable, whichever is maximum.
The transaction must be initiated and completed by the user within the PhonePe app.
PhonePe has the right to amend the terms & conditions, end the offer, or call back any or all its offers without prior notice.
In a case of dispute, PhonePe reserves the right to a final decision on the interpretation of these Terms & Conditions.