UC News CricFund : Uc news Again Come up With A new refer and earn Offer which will last till 31 March 2017 . You will Get started with Rs.3500 when You will Reach Rs.8000 mark by inviting Friends You Will Get Rs.8000 from Uc Web Team Previously UC News Gave Same For all Winners we got Rs. 8000 too for Inviting Friends So Guys Hurry And Start Inviting your Friends.
hey are back again with awesome offer in which they are giving Rs. 8000 directly in your bank account.So don't waste your time refer your friends and earn Rs. 8000 real cash in your bank.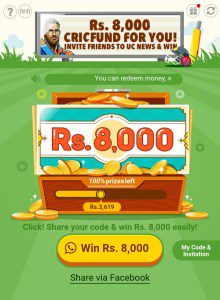 • How To Get Rs. 3500 On Signup + Rs. 8000 by Inviting Friends:-
1. Download Uc News app from here:direct link playstore
Use Code : 10091724
2. Install and open choose your language.
3. Then select categories news which you want.
4. Then you will se "ME" option click on it. Or You will See Banner on Front Page Just Click on It.
5.Then Click on Rs.8000 CricFund.
6. After loading page you'll get your Rs.3500 at First.
7. Now Click on Help my Friend.
8.Now Enter This Code 10091724
Now Start referring friends and earn Rs.8000 real cash.
How to invite friends?
1. Go to Offer Homepage and Click on My Code and Invitation.
After clicking on it you'll get your code and share that with your friends.
3. Your friends download UC News and enter your code. They can click on the "Help My Friend" button on homepage to enter your code.
(Every new UC News user can only help 1 friend.)
• Unlimited Tricks :
Xiaomi Users Use Second Space Trick
Now Install it And Launch First Time .
Copy the APk of UC News From Your Mobile Phone to Desktop Folder .
Now Install it To Youwave And Put Your Refer Code .
After Putting Your Refer Code Change Your IP From internet Options .
Install Device Emulator or Reset Your Youwave .
Now Do The Process Again to Earn Unlimited Times .
Please Change Your IP every Time to not Cought.
• Some Useful Information About This Offer (Must Read This)
Activity period
March 23, 2017 – March 31, 2017 23:59:59 (IST)
Prizes – Rs. 8,000 cash as CricFund
IPL is just around the corner! UC News looks for trendy Cricket Lovers! Invite friends to UC News and enter your code, get your exclusive Rs. 8,000 CricFund!
How to win your exclusive Rs. 8,000 CricFund?
Any participant has a chance to win Rs. 8,000 CricFund.
The participants can redeem Rs. 8,000 only when it is 100% collected.
Download UC News to collect more money.
To collect the remaining money, you can ask your friends to download UC News and enter your code.
The more friends you invite, the faster you can win your Rs. 8,000 CricFund.
The game will be over on March 31, 2017 23:59:59 (IST). When all the prizes are sent out, the game will be over as well. You can check how many prizes are left on homepage.
The prize will only be delivered to those who have collected 100% Rs. 8,000 CricFund before the game is over. If your Rs. 8,000 is not 100% collected when the game is over, the money you collected will not be delivered to you as prize.
How to invite friends?
Step1 – Check your code by clicking on the "Code & Invitation" button on homepage.
Step 2 – Your friends can download UC News and enter your code. They can click on the "Help My Friend" button on homepage to enter your code. (Every new UC News user can only help 1 friend.)
When your Rs.8,000 is 100% collected, click on "Redeem" button to fill in your personal infomation and get your money.
You can revise your contact information before April 2, 2017 23:59:59 (IST). The prizes delivery will be based on the final submission.
Your contact information will be only used for prize delivery. Prizes will be only delivered to those who submit valid information before April 2, 2017 23:59:59 IST.
All the pictures of the prizes are only for your reference.
Kindly do not uninstall UC Browser or UC News during the campaign. UC Browser or UC News is not responsible for your information/prizes lost caused by your uninstallation.
If you have any question or suggestion, please share it in the "Feedback" at upper right corner.
The Awards will be sent out to the Winners during the period before June 1st, 2017 ("the Delivery period")