WhatsApp Hack : Hi There, This is Yash and Welcome to Bigtricks. Today I'll be showing you How to use WhatsApp as Search Engine. Yes, You can use your WhatsApp as Search Engine. You've to just save a no. and make a group and you're ready to go.
• Follow These Steps : 
1. Go To Dialer and Save This No.
8015984514
2. Now Go to WhatsApp>Menu>New Group.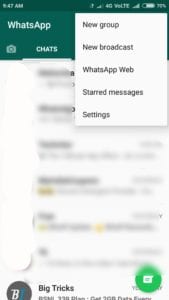 3.  Now name the group "Search Engine" and when it will ask you to add group Participants simply add the newly created contact "Search Engine" there.
4. Now your WhatsApp Search Engine is ready to use you will receive a message which will share you some tips on how to use it.
5. Now Search Anything you want. Just type Search and the thing you want to search.
• Some Tips : 
If you want to get Wikipedia information, type Wiki SEARCHTERM and send to the group.

To join the English news channel, you need to type +NEWS and send it to the group (unsubscribe anytime by sending -NEWS )

You can know the meaning of a word by sending +DICT WORD to the group.

You can join Football or Cricket channel by sending +CRICKET or +FOOTBALL to the group.

If you want to play a GK quiz, simply send +GK to the group.
• Conclusion
So Guys This is the way you can use your WhatsApp as Search Engine. It's a very handy and useful tool. If you are facing any issue at any steps discussed below ask us in the comment section below.