WhatsApp Hack : Hi There, This is Yash and Welcome to Bigtricks. Today I'll be showing you How to use WhatsApp as Search Engine. Yes, You can use your WhatsApp as Search Engine. You've to just save a no. and make a group and you're ready to go.
• Follow These Steps : 
1. Go To Dialer and Save This No.
8015984514
2. Now Go to WhatsApp>Menu>New Group.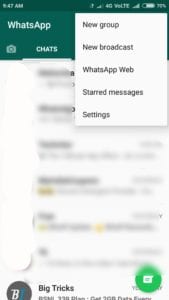 3.  Now name the group "Search Engine" and when it will ask you to add group Participants simply add the newly created contact "Search Engine" there.
4. Now your WhatsApp Search Engine is ready to use you will receive a message which will share you some tips on how to use it.
5. Now Search Anything you want. Just type Search and the thing you want to search.
• Some Tips :