Jio Celebration Offer
Jio Celebrations Offer:- Hi there. Welcome to BigTricks. We hope that you guys are enjoying our previous posts and deals. We are back with a new offer. Jio never fails to surprise us. This time again, Jio is back with a surprise for you guys. Well. As a gesture of appreciation, Jio Credited 2GB of Free High-Speed data to every user.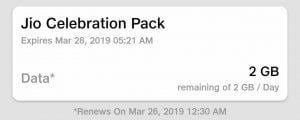 Jio is giving Single Vouchers of 8 GB High-speed data. You'll get 2 GB per day for 5 days. So, a total of 10 GB.
Only Some Random users have got this Offer. If You Got then You are Lucky Please Comment below.
This voucher will be automatically applied in your existing plan. To check your data, download MyJio app from here. Open app and login with your number. Click on Menu >> My Plans. Scroll down and you can find your 2 GB Per day data is active. Well, some people have already received data in their account while some haven't yet. But rest assured, you all will get this free data. Jio will credit this free data maximum till 9th June 2020 . This data will be used after your daily data gets exhausted. These details were mentioned on Jio Official siteThese details were mentioned on Jio Official site. That's all for now. Keep visiting BigTricks. Do share this post with your friends and make them aware of this.
How To Get Jio Celebration Offer Data –
Open the app and log in using your number.
Go to Menu> My Plans.
Scroll down and you'll find an add-on pack by the name "Jio Digital Celebration Pack" already activated.
Use it before it's validity expires.