Jio Celebrations Offer :- Hi there. Welcome to BigTricks. We hope that you guys are enjoying our previous posts and deals. We are back with a new offer. Jio never fails to surprise us. This time again, Jio is back with a surprise for you guys. Well, Jio has successfully completed 2 years. As a gesture of appreciation, Jio thanks all it's subscribers for 2 amazing years of enjoyment and as a part of the celebration, Jio is giving free data.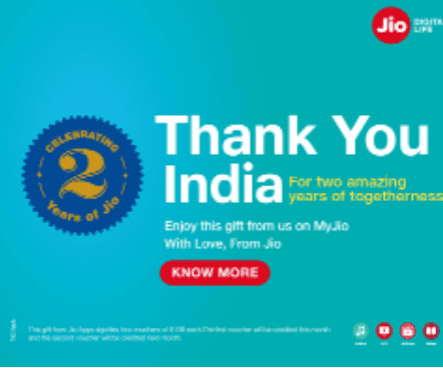 Jio is giving 2 Vouchers of 8 GB High speed data. You'll get 2 GB Per day for 4 days. So, total 8 GB. The first voucher will be credited this month ( maximum by 20th September, 2018 ) and the second voucher will be credited in next month i.e. October, 2018.
This voucher will be automatically applied in your existing plan. To check your data, download MyJio app from here. Open app and login with your number. Click on Menu >> My Plans. Scroll down and you can find your 2 GB Per day data is active. Well, some people have already received data in their account while some haven't yet. But rest assured, you all will get this free data. Jio will credit this free data maximum till 20th September, 2018. This data will be used after your daily data gets exhausted. These details were mentioned on Jio Official siteThese details were mentioned on Jio Official site. That's all for now. Keep visiting BigTricks. Do share this post with your friends and make them aware about this.