Alternatives of Banned Chinese Apps Like Tiktok, Xender & others
Made In India Alternatives of Banned Chinese Apps, Chinese Apps Alternatives  – Hello Friends, Recently on 29th June the Indian Government has banned 59 Chinese Apps From Indian Playstore and Appstore Market. You Can Follow This Guide and Replace Some of the Popular Chinese Apps With Other Made in India or Other Non-Chinese Apps.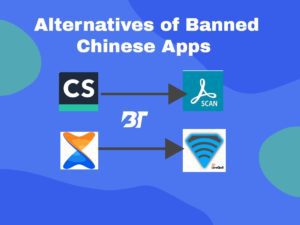 You Can Also Check Our Recent Guide about Top 5 Alternatives of Tiktok App
Alternatives to Top Chinese Apps
There are many Tiktok Alternative Apps Of the Chinese Tiktok App on Playstore. You Can Choose any of the lists.
Shareit or Xender Alternatives – Top Alternatives of Shareit & Xender Like Chinese Apps
Shareit and Xender Apps are Blocked in India, Now It's Time to Choose Files App By Google Which Does not Ask to Login or ask any of Your Details. Which is COmpletely Safe.
UC Browser App Alternatives – Top Alternatives of UC Browser & UC News Apps
UC Browser was also very popular in India But everyone knows. it Used to share Lot of Sensitive details with Chinese Authorities. You Can Always Use Better Apps Like Google Chrome and Brave Browser Which Also Offers Good Rewards.
Cam Scanner App Alternatives – Top Alternatives of Cam Scanner-
The Only Useful Chinese App Was Cam Scanner. This Was the Wonderful tool to scan any Document but It also used to ask Login Details First and then let you Enter the App. Luckily Now We have Alternative of Cam Scanner Which is Made in India By Zoho.
Shein Alternatives – Top Alternatives of Shein & Club Factory App
Shein was one of the Chinese eCommerce App Websites which was popular in Girls But I want to Ask why to Use Shein When We have Myntra of Our Own. Myntra is Made in India and a Subsidiary of Flipkart.
App Lock Alternatives – Top Alternatives for App Lock App –
Now A Days You Don't need App Lock Your Mobile Phone Comes with a Native App Lock which is more secure than any third party App locker.
---
Bottom Line –
These Were the Most Popular Chinese Apps Which now have their replacement. I would recommend you to use more of such apps which do not required any login or Signup info. I have tried to post more Trusted and Secure Apps then the Chinese ones.