Amazon Alpenliebe Offer – Hello Friends Remember Kitkat Amazon Offer Where Amazon Was offering Rs.10 Amazon Cash With Every Pack. Now the Same offer is again back with Alpenliebe Pack. Follow us to get updated with every Deal like this.

Alpenliebe is offering Rs.10 Amazon Gift Voucher code on Every pack. You Can add 3 Gift cards to Your Amazon Account in This Offer. Amazon Alpenliebe Offer is available on New Alpenliebe packs. You can Redeem this Code & Get Amazon Gift card, Just Add This Gift card to your Amazon account. Read Below Details To Know Complete Process of How to Redeem Alpenliebe Amazon Code.
How To Get Free Amazon Vouchers from Alpenliebe Packs –
1. First of all, Buy an Alpenliebe Pack From Your nearby Stores or Grofers or Bigbasket
2. Now Before Buying or Accepting Delivery Please check that The Amazon Offer is mentioned on it.
3. Now Tear the pack and inside it you will find a 17 Digit Unique Code.
4. You Just need to type this code in Your Message Box & Send it to 7996879968
5. Now within 1 Minute, You will receive an Amazon Voucher.
6. Now Visit Amazon gift Card Add Section & add this Gift Card to Your Amazon Account.
7.Congratulation! Rs.10 will be added to your account instantly.
8. Now You can add maximum 3 gift card in your Amazon account
9. This Offer is Valid till 31st January 2020 so gran this offer as soon as possible.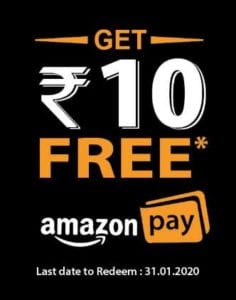 ---
Points to be Noted –
1) The validity of the voucher is until 31st January 2020. Customer needs to claim on or before this date
2) Maximum two codes can be claimed per Amazon.in customer account
3) This voucher can be applied on www.amazon.in/addgc to claim Amazon Pay Balance
4) After claiming the Amazon Pay voucher, Rs.10 Gift Card is issued to the customer Account, post which the below Terms and Conditions associated with Gift Cards will apply.
Terms & Conditions –
Amazon.in Gift Cards issued by Qwikcilver, These terms and conditions apply to Amazon.in Gift Cards (Gift Cards) issued by Qwikcilver Solutions Private Limited (Qwikcilver). Qwikcilver is a private limited company organized under the laws of India and is the issuer of Gift Cards. By purchasing or using a Gift Card, you are agreeing to and accept these terms and conditions.
1. Redemption: Gift Cards may only be redeemed toward the purchase of eligible products on www.amazon.in. Purchases are deducted from the redeemer's Gift Card balance. Any unused Gift Card balance will remain associated with the redeemers Amazon.in the account and applied to purchases in order of the earliest expiration date. If a purchase exceeds the redeemer's Gift Card balance, the remaining amount must be paid with by credit card, net banking or debit card. No fees or charges apply to Gift Cards. Qwikcilver may provide Gift Card purchasers with information about the redemption status of Gift Cards that they purchase or use.
2. Limitations: Gift Cards, including any unused Gift Card balances, expire one year from the date of issuance. Gift Cards may only be purchased in denominations up to Rs. 10,000, or such other limits as Qwikcilver may determine. Gift Cards cannot be used to purchase other gift cards. Gift Cards cannot be reloaded, resold, transferred for value or redeemed for cash. Unused Gift Card balances associated with an Amazon.in an account may not be transferred to another Amazon.in account. No interest will be payable by Qwikcilver on any Gift Card or Gift Card balance. Qwikcilver makes no representation or warranty that www.amazon.in will always be accessible without interruption.
3. Fraud: Qwikcilver is not responsible if a Gift Card is lost, stolen, destroyed or used without permission. Amazon Seller Services Private Limited (Amazon) will have the right to close customer accounts and take payment from alternative forms of payment if a fraudulently obtained Gift Card is redeemed and/or used to make purchases on www.amazon.in.
4. Governing Law and Jurisdiction: These terms and conditions are governed by and construed in accordance with the laws of India. You, Qwikcilver and Amazon each agree to submit to the exclusive jurisdiction of the courts at Bangalore. You agree to indemnify Qwikcilver and Amazon for all claims brought by a third party against it or its affiliates arising out of or in connection with a breach of any of these terms and conditions.
5. Limitation of Liability: NEITHER QWIKCILVER NOR AMAZON MAKE ANY WARRANTIES, EXPRESS OR IMPLIED, WITH RESPECT TO GIFT CARDS, INCLUDING WITHOUT LIMITATION, ANY EXPRESS OR IMPLIED WARRANTY OF MERCHANTABILITY OR FITNESS FOR A PARTICULAR PURPOSE. IN THE EVENT A GIFT CARD IS NON-FUNCTIONAL, YOUR SOLE REMEDY WILL BE THE REPLACEMENT OF SUCH GIFT CARD. IF APPLICABLE LAW DOES NOT ALLOW LIMITATIONS ON IMPLIED WARRANTIES OR THE EXCLUSION OR LIMITATION OF CERTAIN DAMAGES, SOME OR ALL OF THE ABOVE DISCLAIMERS, EXCLUSIONS, OR LIMITATIONS MAY NOT APPLY TO YOU, AND YOU MAY HAVE ADDITIONAL RIGHTS.
6. General Terms: The Amazon.in Conditions of Use apply to Gift Cards. Qwikcilver reserves the right to change these Gift Card terms and conditions from time to time in its discretion and without prior notice to you. All terms and conditions are applicable to the extent permitted by law.
7. QwikCilver Contact Information: Website address: www.Qwikcilver.in
8. View your gift card transaction statement: https://gcbal.qcamz.qwikcilver.com/SSA