Hello Friends, Amazon is Offering Rs.1000 Free Shopping for doing 5 recharges. You must be a Prime member and if you are a Prime User then do a following recharges & earn Rs.1000 Cashback on Rs.1000 Shopping. Recently We Also Published Rs.100 Free Shopping offer

To Get This Offer, You have to recharge Your Mobile, Pay DTH, Electricity, Water, Gas Bills worth Rs.10 or More. This Offer is Only for Prime Users. 
How to Get Rs.1000 off on Shopping –
1. First of All Visit Amazon offer page – Click here 
2. Now Recharge Your Five Services –  below
Do Recharge of Rs.10 to Your Prepaid Mobile 
Pay Rs.10 DTH Bill or More
pay Rs.10 Electricity Bill or More 
Pay Rs.10 Water Bill or More 
Pa Rs.10 gas Bill or More
3. You will Get Rs.200 worth coupon for each in SMS.
4. Click on the Link & Collect offers.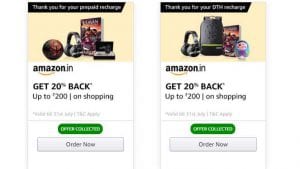 5. You will Get Rs.200 off for every transaction.
6. Now Place an order worth Rs.1000 or More.
7. Check on Payment page the All Coupons Applied & You will Get The Cashback after payment.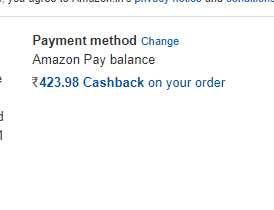 8. Grab this Offer fast before it expires.
---
Terms & Conditions –
1)This limited period promotional offer, namely Shopping ("Offer") is provided to you by Amazon Pay (India) Private Limited ("APIPL") and is made available to select customers who see this offer and who do their mobile recharge, DTH recharge, electricity, water & gas bill payment on Amazon in July 2019 and who have received this offer as an 'unlocked offer' over email/SMS by Amazon Seller Services Private Limited ("ASSPL") on the website www.amazon.in and the corresponding mobile site and mobile application (collectively, "Amazon.in").
2)These Offer terms and conditions ("Offer Terms") are in addition to the Amazon.in Conditions of Use & Sale and Privacy Notice, to which you agree to by using Amazon.in. In the event of any conflict between the Conditions of Use & Sale and these Offer Terms, these Offer Terms will prevail for the purposes of this Offer.
3)The Offer is valid from July 4, 2019 to July 31, 2019 (both days inclusive) ("Offer Period"), unless revoked or extended by APIPL in its sole discretion, without any prior notice and without any liability.
4)During the offer period, any customer who sees this offer and then does a mobile recharge, DTH recharge, electricity, water & gas bill payment on Amazon, will receive an unlocked 'collect only' shopping offer. If then the customer 'collects' this offer and undertakes / purchases a shopping product on Amazon.in excluding the below mentioned products during the offer period ("Shopping"), making payment thereof using any available payment methods, each such customer will be eligible to receive a promotional cashback of 20% cashback upto INR 200 per customer in relation to the amount paid by the customer for the Eligible Transaction.
5)The Unlocked Shopping Offer is not applicable on purchase of the following ineligible / excluded products- Recharges, bill payments, load money, gift cards, Kindle e-books, Laptops, TVs, Mobiles, Precious Jewellery, Furniture, Forrest Essentials, Smartphones, ovens, dishwasher, chimney, Fridges, Washing Machines, TVs, Large Appliances, Precious Jewellery, Forrest Essentials, Fridges, Silver Jewellery, Prime, Gift Cards, Load Amazon Pay Balance.
6)To participate in this Offer and to avail the benefits under this Offer, a customer is required to purchase a product (except excluded / ineligible products mentioned in these Offer Terms above) during the Offer Period and make payment for such purchase transaction using any electronic payment method on Amazon.in ("Eligible Customer"). In other words, a customer must make a purchase transaction on Amazon.in during the Offer Period.
7)If an Eligible Customer, completes a shopping transaction between July 4, 2019 to July 31, 2019 (both days inclusive), then such Eligible Customer will be qualified to receive: cashback for an amount equivalent to: 20% cashback upto Rs.200.
8)The Benefit will be provided to the Eligible Customer in the form of Amazon Pay Gift Card, issued by QuikCilver Solutions Private Limited, redeemable as Amazon Pay balance in the Amazon.in account of the Eligible Customer. The use and redemption of the gift card(s) and the use of Amazon Pay balance will be governed by the applicable terms and conditions.
9)The Benefit (as applicable) will be provided to the Eligible Customer in 3 business days of doing the shopping transaction.
10)The benefit under this Offer cannot be clubbed with any other similar offer for Product on Amzon.in.
11)An Eligible Customer will be eligible to receive the benefits in accordance with these Offer Terms, only on successful payment for the shopping transaction.
12)A Customer will not be eligible for this Offer if the order under purchase transaction is returned by the Eligible customer or cancelled by the Eligible Customer, seller or ASSPL, for any reason whatsoever, such order will not qualify for this Offer and the participation of the Eligible Customer will be deemed withdrawn.
13)This Offer will not be available for any Transaction that is cancelled (for any reason whatsoever), by the customer, by APIPL or ASSPL or any of their affiliates, or by the seller of the Bill Transaction.