Amazon Great Indian Sale Offers  – Hello Looters, You must Know Amazon's 2nd Biggest Sale will be Starting from 19th-22nd January and we are preparing for you Guys to Provide Best Offers.
Now You Can Get All the Latest Loot Deals to form our channel So join our Telegram Channel Now if you have not Joined it till now. Also, Amazon is offering Rs.100 off Coupon for Just Scan & Pay Transactions Using Your Amazon Account. You just need to send Rs.250 or more using your Amazon UPi & Get Rs.100 off Coupon for Amazon's Sale.
The Sale will start at 12 noon, 18th January for Prime Users. You will get a 10% Discount on SBI Credit Cards.
Amazon Great Indian Sale| All Deals –
Join our Telegram Channel For More Instant Deals – Bigtricks Telegram Channel
tip – You will need to add money in Amazon Pay Wallet so the Best option is to buy this gift card & grab others coupons for free
What is This Offer –
When You Buy This Voucher You will Get Coupon for below categories
How To Get Rs.1000 Back on Rs.1000 Gift Voucher –
1. first of all visit Amazon Gift card Purchase Offer Page – Click Here
2. Now Click on Buy Button & Pay Rs.1000 to Buy This GV. You will Get a Gift card to Your email Instantly.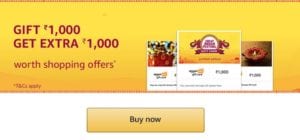 3. Now after a few minutes, You will get SMS & Email to COllect all 5 Offers in Your account.
4. Once you collect all the offers, You can now Redeem these coupons when you make any purchase in Great Indian sale
5. Cashback will be credited instantly.
---
I you want to Know About Amazon Scan & Pay Transaction Please Read Amazon Scan & pay
How To Get Rs.100 off on Rs.500 From Amazon Scan & Pay Transactions –
1. First of All Visit Amazon UPI Page inside Amazon App & Activate if you haven't activated till now.
2. Now One You Activate Find Scan & Pay Option in UPI Menu.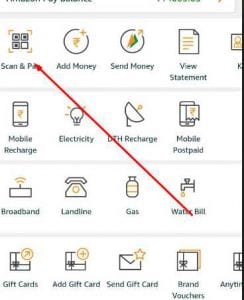 3. You Can Scan Your Own other App's QR Code or Just Scan Friend's QR Code.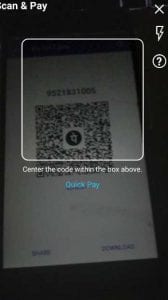 4. Pay Rs.250 or more to your Friend or QR Code and You will receive a Coupon in Your Amazon Account.
5.Now You need to Collect Offer in Your Account.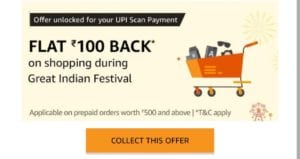 6. On the Sale Days You Can Shop for Anything and You will Get Cashback to Your Amazon pay Wallet within 24 Hours.
---
Terms & Conditions –
The limited period promotional offer, namely Festive Day cashback ("Offer") is provided to Select Customers, by Amazon Pay (India) Private Limited ("Amazon") and is made available by Amazon Seller Services Private Limited on the website www.amazon.in and the corresponding mobile site and mobile application (collectively, "Amazon.in").
These Offer terms and conditions ("Offer Terms") are in addition to the Amazon.in Conditions of Use & Sale and Privacy Notice to which you agree to by using Amazon.in. In the event of any conflict between the Conditions of Use & Sale and these Offer Terms, these Offer Terms will prevail, only for the purposes of this Offer.
The Offer is valid from Sep 15, 2019 till the date on which The Great Indian Festival begins(dates of which will be released on Sep 17, 2019), both days inclusive ("Offer Period"), unless revoked or extended by Amazon (in its sole discretion), without any prior notice and without any liability.
To avail this Offer, a customer must make payment through the Scan & Pay functionality using Amazon Pay Unified Payment Interface payment method, powered by Axis Bank Limited ("Amazon UPI"), to make payments at physical retail shops, stores and outlets ("Stores"), between September 15, 2019 till the date on which The Great Indian Festival begins(dates of which will be released on Sep 17, 2019) will be entitled to receive coupon(s) that can be used or redeemed for a transaction made on Amazon.in during the Great Indian Festival 2019.
The eligible Customer will receive the Coupon through e-mail or SMS on the email address or mobile number registered with the Customer's Amazon.in account. Upon receipt of the Coupon, the Customer will be required to claim/redeem the Coupon by clicking on 'Collect Offer' provided in the said e-mail or SMS.
During the Offer Period, a customer who collects the offer can use or redeem the offer for a purchase made on eligible products on Amazon.in during Great Indian Festival 2019 using prepaid payment method. Customer would not be able to redeem the offer on pay on delivery/Cash on delivery orders.
The use of the Coupon may be governed by additional terms which will be informed to Customer.
A Customer can use the Coupon to avail cashback for an amount equivalent to INR 100 of the order value for purchase of products for a minimum order value of INR 500 on Amazon.in undertaken during Great Indian Festival 2019 after completion of the purchase transaction in respect of which the Coupon is received ("Benefit"), provided that the payment for such purchase is made using an electronic payment method on Amazon.in itself, such as Amazon Pay balance, unified payments interface (UPI), net banking, debit card or credit card.
The maximum amount of Benefit that can be availed is INR 100 for each Coupon applied by the Customer.
The Offer will not be applicable on purchase of following products- Prime Membership, Gift Cards, Load Amazon Pay balance and items listed on https://www.amazon.in/l/521006903, https://www.amazon.in/l/14521167031, and https://www.amazon.in/l/6265207031
This Coupon can only be availed by the Customer once during the Offer Period. In other words, a Customer will be eligible to receive only one (1) Coupon during the Offer Period, irrespective of the number of purchases or value of purchase made on Amazon.in by the Customer.
The Coupon can be used / applied to purchases only on Great Indian Festival 2019.
The Benefit will be provided to the Customers in the form of Amazon Gift Card, issued by QwikCilver Solutions Private Limited, redeemable as Amazon Pay balance in the Amazon.in account of the Customer. The use and redemption of the gift card(s) and the use of Amazon Pay balance will be governed by the applicable terms and conditions.
The Customer will not be eligible to receive the Benefit, if the order for the product is cancelled (for any reason whatsoever) by the Customer, the seller, Amazon or Amazon Seller Services Private Limited, or if a purchased product is returned by the Customer. In such cases, the participation of the Customer will be deemed withdrawn.
This Offer is provided on a best efforts basis and participation in the Offer is voluntary. Nothing contained herein amounts to a commitment by Amazon to conduct further, similar or other offers.
The Benefit (in the form of Amazon Gift Card) will be provided to the eligible Customer within 14 business days of date of shipping of the product purchased under this Offer on which the Coupon is successfully used / applied. However, for orders involving a product eligible for exchange and/or no-cost EMI, the Benefit will be provided within 20 days from the date of shipping of such product on which the Coupon is successfully used / applied, in case the order for the product is not canceled, rejected or returned.
Under no circumstances will the Benefit being offered under this Offer be provided in cash by Amazon, i.e. there are no cash or other alternatives available in whole or in part, in relation to the Benefits under this Offer. No requests for transfer or assignment of the benefits under the Offer shall be entertained.
Amazon reserves the right, at any time, without prior notice, without liability, and without assigning any reason whatsoever, to add/alter/modify/change or vary all of these Offer Terms or to replace, wholly or in part, this Offer by another offer, whether similar to this Offer or not.
By participating in this Offer, you expressly agree that Amazon or any of its affiliates will not be liable or responsible for any loss or damage whatsoever that you may suffer, directly or indirectly, in connection with this Offer, including but not limited to that associated with his/her use or delivery or misuse of any Coupon and/or Benefit provided hereunder.
Amazon does not endorse any of the products offered on Amazon.in or purchased by the Customer for availing this Offer and will not accept any liability pertaining to the quality, merchantability, fitness, delivery or after sales service of any products.
Any queries or issues in relation to availing the Offer should be addressed to Amazon and such queries or issues will be entertained by Amazon only during the Offer Period.
Any failure by Amazon to enforce any of these Offer Terms in any instance shall not be deemed to be a waiver of these Offer Terms and shall not give rise to any claim by any person.
Amazon reserves the right to disqualify any Customer from availing this Offer if any fraudulent activity is identified as being carried out for the purpose of availing the Offer.
Any person availing this Offer shall be deemed to have accepted these Offer Terms.