Amazon Pay Merchants 50% Cashback Offers – Hello Guys, May has Started & Amazon is Providing rain of offers. Amazon Is Already Offering 100% Cashback on Recharges, Rs.100 Cashback on Send Money & Scan and Pay, Load Money & Many Other Offers.

We will Publish All the merchants Offer live on Amazon Pay Which is offering 50% Cashback For Selected users. You can Check below Link to Get check if you are eligible or not. But this is Loot & you must get Your Prime Membership Activated for Some of the Offer. Amazon Is Already Providing Prime membership Free for 14 Days and Free 3 Month Amazon Prime membership With Axis Cards.
[January'20] Amazon 50% Cashback Offers on Below Merchants –

You Can Collect all the offers from Your Offers Section of the Amazon Pay App.  Click Here
September User Specific Offer
IPL is Coming soon So Amazon is Providing Rs.50 Cashback on Rs.401 jio Recharge Which offers Free Hotstar VIP Membership with 3 GB Daily Data. The Offer is User Specific and You can check it by the following link
👉👉👉👉 Check Eligibility 👈👈👈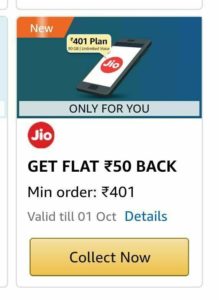 Trick to Get Free Rs.50 Free From Amazon Pharmeasy Offer –
First of All Collect Offer From below Link Click Here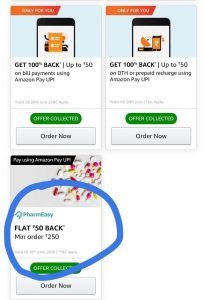 Now Visit Pharmeasy Website – Visit

Now Place any Order of Rs.250 or more.
4. Now Pay Using Amazon pay UPI.
Now Cancel the Order and You will get Cashback Instantly.
Refund Will be Credited to Your Bank Account Instantly.
Amazon 100% Cashback Offers on Below Merchants –
You Can Collect all the offers from Your Offers Section of the Amazon Pay App.  Click Here
---
[Over] Netmeds Suggestion – Free Hand Sanitizer –
First of All Visit Netmeds Website & Add Sanitizer to Cart.
Now Collect Offer From Amazon Link Above
Now Pay Using Amazon pay & Get Instant 100% Cashback of Rs.50
---
How To Use The Above Offers –
First of All, Visit the Respective Site or Merchant App.
Now Purchase What You Want to Buy/
Proceed to Payment Method & Choose Amazon Pay Method or Amazon Pay UPI on Payment Screen
Pay Through Amazon
Done, You will Get 100% Cashback on Your Purchase if You are Eligible for the offer.
---
More Details –
Standard Terms & Conditions Apply.
The Offer is valid from 1st May'20 to 1st June'20 both days inclusive ("Offer Period"), unless revoked or extended by Amazon in its sole discretion, without assigning any reason, without prior notice, and without liability of any kind.
Under this Offer, a cashback of 100% upto INR 50, applicable on first transaction using Amazon Pay on Domino's Pizza in the month of May, 2020 will be provided to each customer who:
(a) completes a transaction on the app of the Merchant at Domino's Pizza and
(b) pays for such transaction using the "Amazon Pay" option available on the app
(c) Is the first transaction on Domino's Pizza using Amazon Pay in the month of May, 2020
(d) Have collected this offer on Amazon.in app or website
(e) Is an Amazon Prime Customer
(Each transaction meeting the aforesaid requirements being referred to as a "Qualifying Transaction").
Cashback for a Qualifying Transaction will be provided in the form of Amazon Pay Balance. Amazon Pay balance is a sum of all balances associated with Amazon Gift Cards. Amazon Gift Cards are issued Qwikcilver Solutions Private Limited and are subject to the Gift Card Terms and Conditions available at http://www.amazon.in/gp/help/customer/display.html?nodeId=201522810
These Offer terms and conditions ("Offer Terms") are in addition to the Gift Card Terms and Conditions. To the extent the Gift Card terms and conditions are inconsistent with these Offer Terms; these Offer Terms will prevail with respect to the Offer only.
Amazon reserves the right to disqualify any customer from the benefits of the Offer, at its sole discretion, if it identifies any fraudulent activity being carried out for the purpose of availing the benefits under the Offer or for any reason whatsoever.
This Offer cannot be combined with any other offer or promotion made available by Amazon on the Website.
This Offer can only be availed once by each customer. Additionally, and for the avoidance of doubt, Amazon Pay Balance will only be provided for the first Qualifying Transaction (and not for any subsequent transactions) made by the customer during the Offer Period.
This Offer will not be applicable if you, the Merchant or Amazon cancels the order fully or partially and in such a case, participation in the Offer will be deemed withdrawn. In case the Qualifying Transaction is cancelled after you have received the cashback, you acknowledge and agree that the appropriate cashback amount (received under the Qualifying Transaction) will be adjusted from your refund receivable amount
Amazon reserves the absolute right, without prior notice, without liability, and without assigning any reason whatsoever, to add/alter/modify/change or vary any or all of these Offer Terms or to replace, wholly or in part, this Offer by another offer, whether similar to this Offer or not.
This Offer is valid for Indian residents only.
The Amazon Pay Balance will be sent to the registered email ID of the customer making the Qualifying Transaction instantly post such Transaction.
Amazon Gift Cards will expire one year from the date of issuance by QwikCilver. Amazon Gift Cards cannot be used to purchase other gift cards. Amazon Gift Cards cannot be reloaded, resold, transferred for value or redeemed for cash, except to the extent required by law.
By participating in this Offer, you expressly agree that Amazon or any of its affiliates will not be liable or responsible for any loss or damage whatsoever that you may suffer, directly or indirectly, in connection with this Offer.
This Offer is governed by the laws of India and any disputes arising out of or in connection with this Offer will be subject to the exclusive jurisdiction of the courts at Bangalore.
Availing this Offer is voluntary. Any person availing this Offer will be deemed to have accepted these Offer Terms. By availing this Offer, each customer hereby releases from liability and holds harmless Amazon and its affiliates in relation to any matters connected to this Offer including but not limited to issue(s) associated with making the Qualifying Transaction or the inability to make a transaction for any reason whatsoever.
As per RBI regulations, it is mandatory for customers to have their names associated with their Amazon accounts to receive cashback
Amazon reserves the right to disqualify any customer from the benefits of the Offer, at its sole discretion, if it identifies any fraudulent activity being carried out for the purpose of availing the benefits under the Offer or for any reason whatsoever