Hello Friends Bigtricks.in Launching New Whatsapp deal Broadcasting Group In Which you Will Get All Latest Loot Tricks And Deals In Your Whatsapp Directly This Service Is Valid For Indian Users And Anybody Can Use This Free Service. Through This Service, You Will be able To get Instant Loot deals and new offers In Your Whatsapp inbox Directly.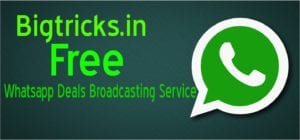 How Bigtricks Whatsapp Broadcasting Service Will help You.(Bigtricks alerts)
Sometimes There Are Loot Deals On Shopping Websites Which are are super loot and these deal mostly end in just 2 or 3 minutes or may be 1 hour or 2 but when you get to know about these deals either they are out of stock ordeal ended and you have to regret it.
some examples of these deals are:
Pointswala Amazon Offer: Get 500 Rs. Amazon Gift Voucher Free
Globalite slipper at Rs4 at Paytm
Keettoo Keyboard App: Signup And Get Free 10 Rs. Recharge
And Many Other Deals Which get Out Of Stock Due to Great Rush.
So Let's Think if You Had Got These Deals Directly To Your Mobile Will you loose Them? Obviously no, Because Bigtricks Always Try to Reach All Loot deals To Its Visitor And Due To request By Some User We Have Initiated This Service For Joining This Service You just need To Follow the Simple Instructions.
How To Join Bigtricks Whatsapp Broadcasting List?
The process Of joining Is Simple And Easy .
First, You need to Save Bigtricks.in WhatsApp no. In Your Contact List
Save +919587035595 As Bigtricks In your contact List (Note: – If you don't save you will not receive messages from us)
Now message us on WhatsApp as follows:
Type "SUB" <space> "YOUR NAME" & send it to

+919587035595

(

Whatsapp Message)

Within 5 hours we will add your mobile number to our broadcast list.
We will send a confirmation message to you after adding you to our broadcast list.
Thanks to all subscribers We HAve 3000+ users Connected With Us On Whatsapp
Note:
1. Never Delete Our Number Else You Will not Receive The Notifications Anymore
2. We will not publish all our deals and tricks in our broadcast list so keep visiting us on daily basis to receive all updates plus also Free E-Mail Newsletter subscription of our website will deliver every single post to your e-mail inbox, So never forget to subscribe our E-mail Newsletter!
3. Never Send Spam Messages On that Number Only Important Message Will Be Answered Other Will be Ignored.
4.You may Comment On This Page So That You Get More Information.
5.You Need To Send Message VIA Whatsapp Only No Need To Send It Directly.
please Share This Post With Your Friends also And Help them Also .

If You Are Not interested Then please Follow Our Email News Letter