Hi There Welcome to BigTricks, This is Yash. Today you'll get to know about How you can capture Scrolling aka Full Page Screenshot. Before 2015 it was not Available on mostly devices but Now it had becomes very easy to capure it whether you are on Android 5.0 or 6.0 or above you can capture it easily without much problems. So I have got 2 methods for you One for All Android Smartphones and other for only Xiaomi Smartphones. Enjoy.
1. For All Android Smartphones
• For this you have to download an App called Stitch & Share. Download : Download Now
• After downloading Open it And allow all the permissions it asks.
• Click On Automatic Capturing.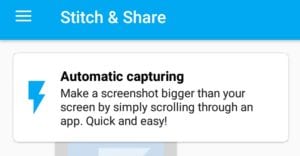 • Now A bubble will appear on the Screen.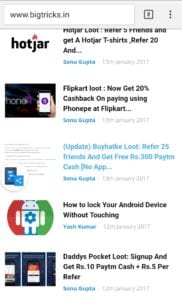 • Whatever you want to capture just open. For Instance I Opened Chrome.
• After opening your desired page just click on that bubble, It will start capturing everything on your screen.
• Slowly Slowly moves down the page only 3/4 th page at a time, For confirmation of your screen Capturing in left side there is a Window like shown in the image.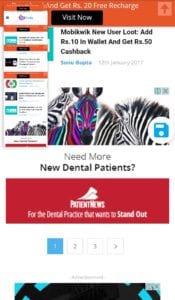 • Than Click on Save from That Blue Button.
• Done Now You can save and share this with your friends.
2. For Xiaomi Smartphones
• Capture a Screenshot Normally.
• After this Click on Scroll Option like in the Image below.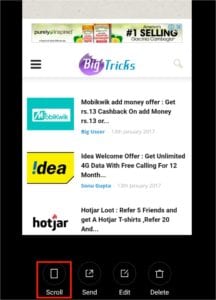 3. Now select the Page till you want and click on done.
4. Done Your Full screenshot will be saved.
• Final Verdict
So guys this is how you can capture a scrolling/full page screenshot on any Android. 1st Method will also work for Xiaomi Smartphones. If you have any problems regarding this then Please contact us we'll get back to ASAP.