Hi There and Welcome to Bigtricks. Have you ever feel like writing an article on your blog but you don't have time or you can not write long articles, This is where contentmart comes handy. You can hire quality writers on contentmart to write for you. Contentmart will show you authors rating and his experience to choose author according to your requirements.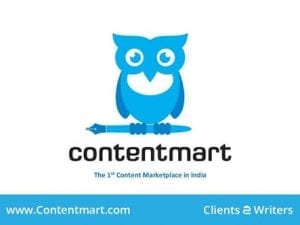 You can either start as a client or a freelance writer on contentmart for free. Contentmart has Global Plate Form of   quality writers who have joined with their system. Contentmart has  Writers in English,Hindi,Kannada Languages however Malayalam and Tamil is Not confirmed yet.
• About Contentmart
Contentmart serves as an intermediate between a client (who wants someone to write for them like an article, sales or service page etc.) and a freelance writer. Contentmart has an absolute introduction of the arrangements of a particular content specialists and also the substance prerequisites set by the clients. The interface is anything but difficult to utilize and includes an organized route framework for customers and authors to locate each other.
• How to get started
As I mentioned above it is pretty simple to get started, You can either start as a client or a freelance writer on contentmart for free. If you're a client you can set your own price per word for an article, article submission deadline etc. After publishing your order freelance writer can accept it if they wish, they can also propose their price.If you want your existing blog to be translated into other languages like Hindi, Marathi etc. Contentmart can do this for you.
 Contentmart For Clients  :-
are you  a client or  you want to order content from Contentmart ? , Its pretty easy to order content.Contentmart does not required any debit card or credit card .On signup page you will get Two Option As a Writter or as a Client  , Choose second Option and complete Signup , you can also use facebook. When done follow below Steps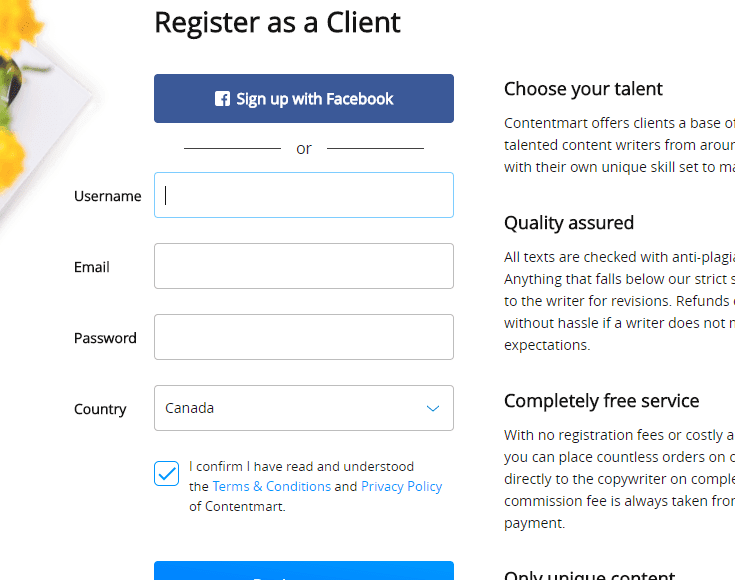 Click On New Order And Follow Instruction to Order a Job .
Now Mention Name  Of Your Job, Requirements and Other details .
Now Fill Category,language , Deadline etc.
Now Set your bid (Per word price) and Publish.
Now Contentmart team will review it Now Writers can bid on it.
You can Approve or Disapprove Your article within 5 days of recipient.
Contentmart For Writers :-
This is  A platform where Freelancers can bid and write content for clients. To become writer at contentmart just register yourself as Writer on Registration page.After Join you have to Pass A Grammar test to become a experienced writer.there are four levels.You can take test as many time as you can.Your reputation is indicated on your profile if you done your job on time you will get more reputation also depend on client feedback. you will get your payment as soon as client accepts content and but you can redeem when you earned  minimum Rs. 3000 and USD$ 50 For international Writers , Contentmart takes only 20% of your earned amount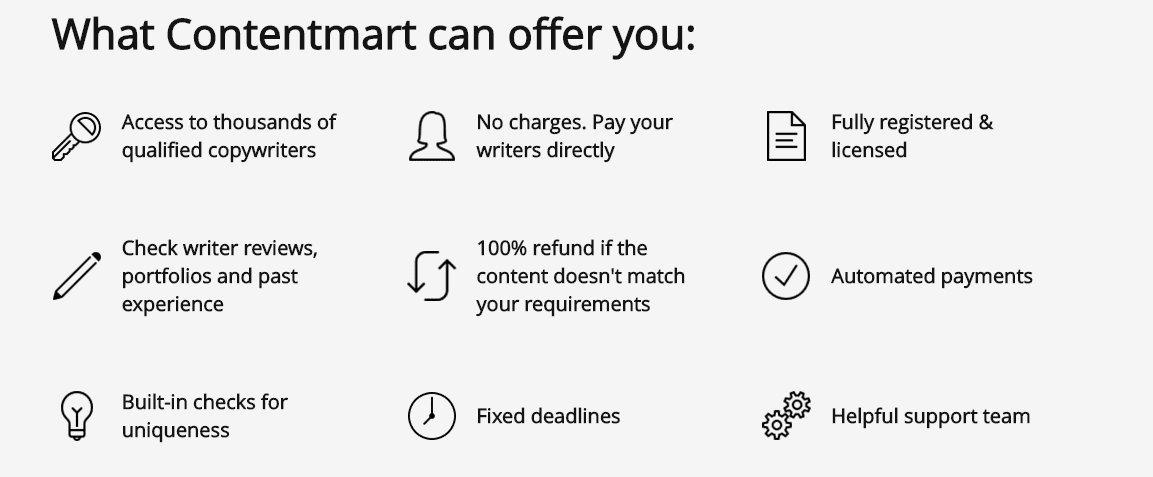 • Conclusion
It is right to say that Contentmart is an incredible stage to employ skilled authors. From authors point of view, you can likewise utilize this stage to get innovative and quality composition work and as an Organization you can hire quality skillful authors to write for you. So why are you waiting go ahead and sign up on Contentmart.