Loot Deals : Hi There and Welcome to Bigtricks. We're back here and will be updating you with all the deals here and there. You'll find here all deals with there links (if you want to buy).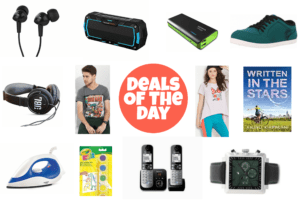 1. Eveready DI100 750-Watt Dry Iron (White/Blue) in Rs.399, Real Price – Rs.795.
2. ADATA PT100 10000mAH Power Bank (Black-Green) in Rs.849, Real Price – Rs.2499.
3. SoundPeats P3 Outdoor IP65 Water Resistant Portable Bluetooth Speaker(Blue) in Rs.1690, Real Price – Rs.3990
4. JBL C300SI On-Ear Dynamic Wired Headphones (Black Color) in Rs.799, Real Price – Rs.2999.
5. JBL C100SI In-Ear Headphones with Mic (Black) in Rs.649, Real Price – Rs.1299.
6. Globalite Men's Casual Shoes Stumble Teal Black GSC0432 in Rs.299.
7. Crazy Eyez Round Sunglasses in Rs.349, Real Price – Rs.999.
8. MARVEL TEES BUY 3 @ RS. 399.
9. Written In The Stars By Anjali Kirpalani's in Rs.69, Real Price – Rs.250.
10. Crayola Color Wonder Gel Paint Palette Refills-Classic in Rs.279, Real Price – Rs.1894.
11. Panasonic PA-KX-TG6822 Cordless Landline Phone With Answering Machine in Rs. 5375, Real Price – Rs. 9599.
12. Fastrack 3111SL02 Chronograph Analog Watch – For Men in Rs.1899, Real Price – Rs.4795