WhatsApp 2 Step Verification : Hi There, This is Yash and Welcome to BigTricks. Whatsapp is working very hard to make itself very secure. The Facebook-owned company enabled end-to-end encryption in the app last year and now it has introduced two-step verification. The new security feature will make sure that no one can set up your WhatsApp account with just your mobile number.
• Why it is Important to enable 2 step verification?
Everyone knows how to use WhatsApp. People know that it takes only a sms to get your WhatsApp on other's device. So think if someone tries to get your WhatsApp and they even Verify your no. what will you do? And at the same time if you'd enabled 2 step verification even after verifying they cannot login your WhatsApp somewhere else without the passcode you'll set. So you should definitely set 2 step WhatsApp verification.
You Can Use this Method to Enable WhatsApp 2 step Verification on Android, iPhone and on Windows as well.
• How to Enable 2 step verification?
1. Open WhatsApp on your iPhone, Android smartphone or Windows smartphone. Then, go to WhatsApp Settings->Account->Two-step verification.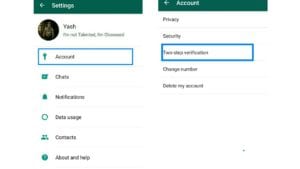 2. Now tap on "Enable" and then, enter the 6 digit passcode, which you have to prompted to enter when setting up WhatsApp afresh. Tap "Next" and confirm the passcode again.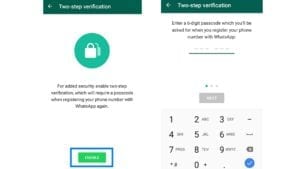 3. Now enter you email address where you can get a link to reset the passcode if you forget the passcode. You can choose to skip this step but it's still highly recommended if you don't want to be locked out of your own WhatsApp account.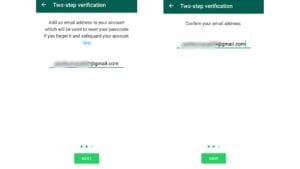 4. Once you have confirmed the email address, WhatsApp two-step verification will be enabled. On Two-step verification page, you'll find options to disable two-step verification, change passcode and email address.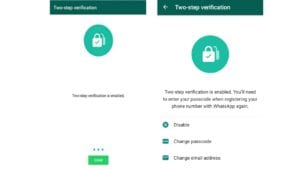 5. You will have to enter the passcode you set whenever you are registering your phone number with WhatsApp again.
• Conclusion
Guys it is highly recommended to set 2 step Verification because it will secure your WhatsApp. This is very easy and you have to just verify and enter 6 digit passcode everytime you set WhatsApp. If you have any queries regarding two-step verification in WhatsApp, do let us know in the comments section below.