Facebook hidden games::Facebook Messenger is a very useful app but it become more intresting since last updates facebook integrated 3 hidden games in their app which make a good time pass when you are either out of network or want to have fun,they are quite hidden features ,one can't found them easily so we ,hearby showing the secret to you just Check it out.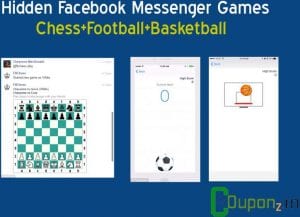 How TO Play Facebook Hidden Games.
There Are Total 3 Games In Messenger App ,Which Are Basketball,Socer And Chess.All Three have different-different methods or simply say they have a fixed emonjies on clicking them you can play the games.
Let A Look Of Each Game.
1.Messenger Hidden Basket Ball Game.
Messenger's Basketball Is My Favorite Game Among All three.because its easy ,you just have to tap on the basketball at right angle so that it goal in basket.
Till the score 10 basket is stable in middle but as you pass the score 10 basket will move to increase the difficulty level, it required most practice to score high .

2.Messenger Hidden Game Soccer:
Soccer is also a good time stamp game ,in soccer game you have to touch the exect Location of the ball when it is in flying the no. of touch you do ,no.of score also increases as same basketball after the score of 10  a light will flash to destruct your mind ,also this game is quite addicted .
3.Hidden Game Chess.
You was thinking that why i do not write "messenger" in this tittle because this game can also play in Web chat.this game is played by commands not visually control .this may a little boaring for some persons because of loading online image and lengthy commands.
How To Play All Hidden games In Messenger 
Steps To Find Basketball & Soccer
Download latest version of Facebook messenger.
Open Chat Of Any Firiend.
click on emoji tab(As Shown In Image)
             
Now Click On 1st and 2nd emojies you are seeing (soccer and basket ball rept.).
when you click on them It Will sent to the user .
now click on emoji from chat(As shown in Pic.)
When You Click A game screen will appear ,
Whoa! Let,s Start Play And Make High Score,Because the highscore messenge will be sent to your friend.
How To Play Chess In Web Or Messenger.
Open Webchat.
send a message writting

@fbchess play

a Screen Of chessboard will appear
now type @

fbchess

help
you will receive all commands that can be use to play this game.
Now follow the commands and play.
If You Like This Post Please Comment Or Share It And Help To Grow Us.