Hi there, This is Yash and Welcome to BigTricks. Today we have a really special app for you called MOBILEXPRESSION. It gives you Free Amazon Vouchers worth Rs.200 in every 25 Days. Follow the given steps below to get started. Enjoy.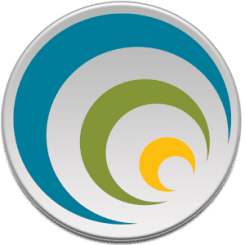 ---
About MobileXpression
The MobileXpression app allows you to participate in the MobileXpression research community and earn rewards for your time. MobileXpression is a market research panel designed to understand the trends and behaviors of people using the mobile Internet. Are the most popular sites on the Internet also the most popular sites on the mobile Internet? Where are people surfing to and what mobile applications are they using? These are the kinds of questions MobileXpression can answer.
---
• How to Sign Up on MobileXpression App :-
1. Firstly visit MobileXpression website from here to Sign Up : Visit Now
2. Select Your Carrier, Smartphone Manufacturer and Model.
3. Now if your Smartphone is not eligible for sign up then it will appear like this and you'll not be able to get this offer.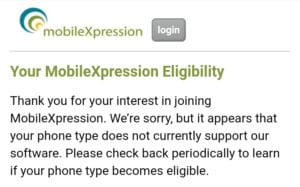 4. If your Smartphone is Supported then you have to submit a form with correct details.
5. After that it will ask you to download MobileXpression app into your smartphone.
6. After downloading MobileXpression app in your Smartphone, enter your phone no. which you have used in time of sign up.
7. To check your earn credits any time you need to click on that MobileXpression app icon on your mobile phone and open it in your browser. You will get the details of your earned Credits.
• Steps to Redeem :-
1. After reaching 10 Points.
2. You can redeem your Earnings as Amazon Voucher worth Rs.200.
3. You will get mail from mobilexpression with a redemption link.
4. This mail will get to you either instantly or in 24 Hours.
5. Copy Voucher code and redeem it on Amazon.
• Things to Remember :-
1. It gives you 2 Points on Every Monday or Sunday.
2. To get that point just open MobileXpression App and it will open a page in Your browser and just collect the 2 points.
3. It is Smartphone specific and it may or may not work on your Smartphone.
• Proof :-
I have got more than 3 vouchers. Here's the proof.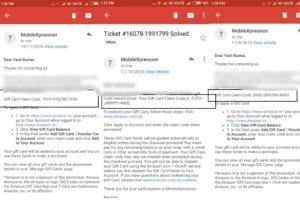 • Conclusion
So guys, This app is good for someone and not so good for someone but still it gives me more than 3 Amazon Vouchers worth Rs.200. If  you're having troubling with this then comment down below we'll be happy to help you.