WillsLifestyle Voucher : Hi there there is a New loot offer from Wills Lifestyle Store for VISA debit card Holders.Shop at any exclusive Wills Lifestyle store across India and get Rs.500 off*, only on your Visa Card. Offer applicable on presentation of unique Voucher Code.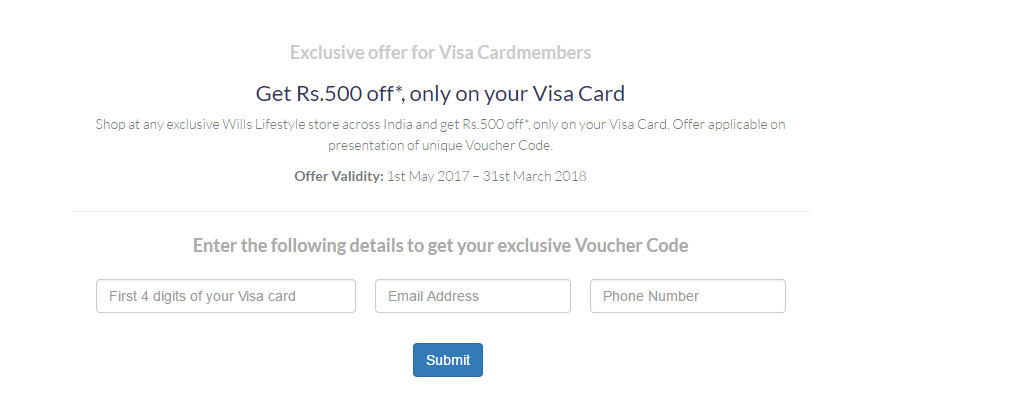 This Offer is Valid for VISA Users You need to enter first 4 digits of your visa debit card and Verify your Number using OTP also you can regsister With any 4 digit starting with 41XX or 42XX in case you don't have visa card , just verify your number and You will get Coupon through SMS instantly
How To Get Rs.500 Shopping Voucher for Free :-
Now Enter Your Four Digit Visa card number and Mobile Number .
Now Click on Submit.
Verify your mobile number using OTP.
After verification you will receive your voucher on your message box.

Offer Validity: 1st May 2017 – 31st March 2018
Terms And Conditions :
This E-GV is valid at Wills Lifestyle stores only.
• This E-GV is valid from 1st May 2017 to 31st March 2018 and can be redeemed once.
• More than one E-GV cannot be redeemed together.
• This E-GV cannot be combined with any other gift voucher of Wills Lifestyle.
• This E-GV can be redeemed only for apparel and accessories.
• This E-GV is not valid on discounted merchandise, during end of season sales, at factory outlets or during any other promotions.
• This E-GV cannot be encashed.
• Usage of this E-GV is purely voluntary.
• For redemption, original SMS or email has to be produced.
• If the price of the purchased product exceeds the face value of the E-GV, then the difference will have to be paid by the customer at the time of purchase itself.
• Any unused balance in the E-GV cannot be encashed and shall lapse.
• ITC Limited shall not be liable in any manner for any cost or expense incurred for the purpose of redemption of this E-GV.
• Wills Lifestyle products are also available without this E-GV.
• Any dispute arising out of this E-GV shall be subject to the exclusive jurisdiction of the courts at Gurgaon.
• Click here for Visa terms and conditions.