Udemy 100% off Offers  :- Hey Guyz Today we are here with a New Learning offer Offer From Udemy For You. Udemy offering Top 15 Paid Courses for Free.
Udemy is a global marketplace for learning and teaching online where students are mastering new skills and achieving their goals by learning from an extensive library of over 45,000 courses taught by expert instructors.
Udemy offers various Learning Courses. There is an offer which is currently live on Udemy ,They are Offering below Listed Courses for Free. You can Get Video Lectures, Complete Tutorials and Extras without paying any single Penny, generally These course cost $100-200 or More but By applying below coupons you can get is for free.
So Let's Get proceed and Watch how you can avail This amazing offer from udemy.
Courses Available with 100% Discount  On Udemy :-
Complete Ethical Hacking Course
Price : $195
Offer price : FREE
Use Coupon : WOO052816
   Click Here to Buy Now For free 

2. Intro to python for Ethical Hacking
Price : $195
Offer price : FREE
Use Coupon : FREEBIES
   Click Here to Buy Now For free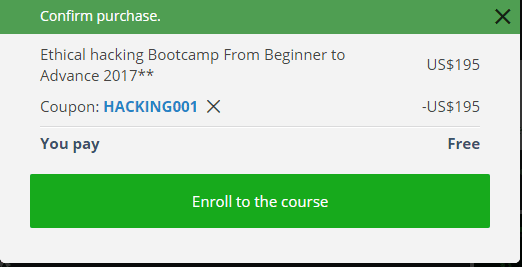 3.Complete Android App Development Course
Price : $195
Offer price : FREE
Use Coupon : ANDROIDFREE
   Click Here to Buy Now For free 
4.The Definitive Ethical Hacking Course
Price : $195
Offer price : FREE
Use Coupon : freebee
Click Here to Buy Now For free 
5.Exploring Secrets of Ethical Hacking
Price : $195
Offer price : FREE
Use Coupon : HACKING001
Click Here to Buy Now For free 
6. The Ultimate Web Developer
Price : $200
Offer price : FREE
Use Coupon : WEBFREE03
Click Here to Buy Now For free 
7. Professional Pixel Art & Animation
Price : $65
Offer price : FREE
Use Coupon : FREECOURSE
Click Here to Buy Now For free 
8. Complete Masterclass to Photography
Price : $50
Offer price : FREE
Use Coupon : FREEFORFRIENDS16
Click Here to Buy Now For free 
9. Quick JavaScript Core learning
Price : $75
Offer price : FREE
Use Coupon : expro
Click Here to Buy Now For free 
10. Learn JavaScript for beginners
Price : $200
Offer price : FREE
Use Coupon : FREEJAVASCRIPT
Click Here to Buy Now For free 
11. Javascript – From Beginner to Pro
Price : $195 Offer price : FREE
Use Coupon : FRIENDS
Click Here to Buy Now For free 
12. The Full JavaScript & ES6 Tutorial
Price : $195
Offer price : FREE
Use Coupon : GOHACKERS
Click Here to Buy Now For free 
13. The Complete JavaScript Course For Web Development Beginners
Price : $195
Offer price : FREE
Use Coupon : JAVASFREE4U
Click Here to Buy Now For free 
14. The Complete
HTML

&

CSS

Course

Price : $195
Offer price : FREE
Use Coupon : FREE4ALL
Click Here to Buy Now For free 

Conclusion : from Above links and Coupons you can purchase Any Of Above Courses for Free.This i s A limited time Offer and may expire anytime so buy as soon as possible you may need such courses in future