Google Pay Play Tez Shots & Win Scratch Cards – Hello Guys, Google Pay is Here with a New Fun Offer. Here in Google Pay' Latest Version of the app, You Can Play Cricket Game & Score. Based Upon the Score You Will get various Scratch Cards. You Can Get A Random amount of Cashback on Specified Transactions.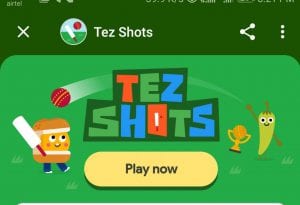 The Rewards Starts from 100 Points, You will get Your First Reward Activated when your Total Score reaches to 100 and Son next Milestone is 300 and this goes to 1000+ So Score high & Get The Rewards in Your Bank Account. You Can Get Rewards on Money Transfer Using Google Pay & Bills & Recharges. You Can Refer Friends on Google Pay & Earn Direct Cash in Bank Account.
The Game is Simple You Just need to Press the Bat Icon at the right time & score high. You can Play Unlimited times & Score as much as you want.
MileStones & Rewards –
Total  score
scratch card
 
50
Coolwinks Voucher Worth up to ₹450
100
Ajio Rs.400 off on Rs.1399 Coupon

 

150
5Paisa : Rs.500 & a Chance to win Rs.50000

 

200
Mfine: Rs.400 off online doctor consultation
300
Upto Rs.650 peter England voucher
 
500
Ovenstory : 80 off on 199
 
700
Discovery : 100 Off on 1 year Subscription
1000
Yatra Rs.300 off on Domestic flights
1000+
Rs.1 Lakh Lucky Draw
1500+
Rs.20 Cashback
How To Play Tez Shots in Google Pay App?
Download Latest version of Google Pay App From Playstore – Download Google Pay

 

Now Complete Your Signup & Bank Linking process, if You are a New user Send Rs.1 to any of your friends to get additional Rs.51 Cashback.

Now Click On The Google Pay Tez Shots Link & Open it in Google Pay App.
Now Read Rules & Start Playing Cricket in Google Pay.

 

You Can Start the Match & Score as much as you want.

You Can play Unlimited times. Your cumulative scores will be counted.

Once You are Done, You can see the Scratch card on The Rewards section.

The Scratch cards need to be unlocked by doing required transactions Like, Send Money, Recharge or Bill Payments. 

once You have done the transactions, Rewards will be yours.
Proof –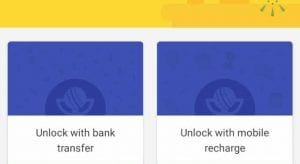 ---
Trick To Order Free Tshirt From Peterengland
Once You have collected 300 points, You will get Upto Rs.600 peter England voucher which you can redeem 100% on peter England website. You will Get Credits to your wallet which you can use either the nearest store or order online. The shirts starting at Rs.500 on Website.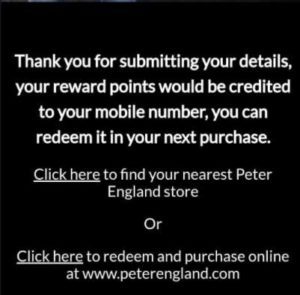 1. Redeem the Coupon you get in Google Pay Click Here to Redeem
2. Now The wallet credited to your Peterengland account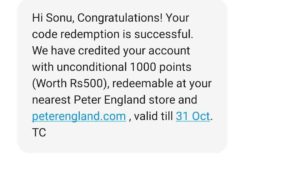 Suggestions to Buy – Click Here  |  Shirts Click here
3. Order anything and Apply the credits to your purchase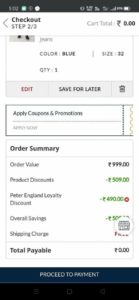 4. Done, You got free Tshirt or Some amount needs to be pay if you get lesser than 650 in the voucher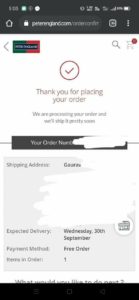 ---
Tez Shots Auto Play Trick –
Now You Can AutoPlay The Shots Game & Earn Scratch Cards, Just Follow the Below Trick to Get Started,
First of Download Auto Clicker App From Playstore – Download Now

Now Just Install the App & Provide Accessibility Permissions.

Now Open Both the Apps & Click on Cricket Game Link in Google Pay.

Now Place the Marker on the Bat Icon, In Setting Select Interval 50 millisecond & Press the Start Button.

Now Autoclicker with Start Auto clicking & You Will Score.
Game rules –

This game is only available on Android app version 34.0.001_RC01 or above. Upgrade to the latest version to play.
 
This is a limited-time promotion and Google reserves the right to end it at anytime without notice.
You can play as many times as you like during the promotion period. Your total score is the sum of runs in all the games that you played. If you exit a game before it ends, the score for that game will not be added to the total score.
Whenever you reach a total score that is indicated as a "milestone" in the game, you will earn a locked scratch card.
To unlock the scratch card and earn the reward, you must successfully complete the qualifying transaction assigned to the locked scratch card during the offer period as mentioned in the terms and conditions.