The recent Corona Virus outbreak has brought every aspect of human life to a standstill. Especially when the schools/colleges are shut down and no knowledge sharing happens it poses a serious threat halting the knowledge sharing process. We have Recently Published about Udemy StayHome Offer Where 30+ Courses are Free.
Also, this has made the life of students even more difficult as the placement season begins. In order to help the students prepare for the interview process, GUVI is offering its courses for FREE.  At present, a lot of companies have asked their employees to work from home providing them an excellent opportunity to learn new programming skills and have a better future than it is now. Keeping this in mind, GUVI is extending this offer to working professionals as well.
How to Get GUVI Courses For Free –
1. First of All Visit GVI Website or Download GUVI App
2. Now After You Download Signup and Crete a New Account
3. Now Choose any Course available on the Website.
4. Apply Promo Code While Purchase
COVID19
5. Once You Apply for Course the Course will become Free.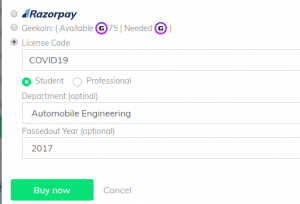 6. If You Complete Before 31st March then it will be Renew to 1 Year for Free.
---