PayTM Postpaid Activation, How to Get PayTM postpaid, What is PayTM Postpaid, Charges of PayTM postpaid –
Hi, Guys, I Hope You are enjoying our Free Recharge Tricks & PayTM Cash Offers. We are here With a New PayTM Offer basically a PayTM Feature. PayTM is Opening PayTM postpaid Option of lot's of users Now. Some Months Ago PayTM offered PayTM postpaid for Some Selected Users. Now It's Available almost all the Users. Now You may wish to know what is PayTM Postpaid exactly?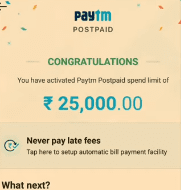 What is PayTM Postpaid?
PayTM Postpaid is a new Way of Payment where you can Pay for PayTM Shopping, Recharges, Bill Payments even if you don't have Account Balance. You Can Pay the amount later. This is Similar to Flipkart Pay Later. There are no Charges for this Service if You pay the Amount within 45 Days. If you don't pay the amount you will be charged with a certain fee(see below)
About PayTM Postpaid (Video) –
We have uploaded a Video on PayTM Postpaid Click here to Watch PayTM Postpaid Steps 
How To Activate PayTM Postpaid –
PayTM Postpaid is available for some specific users based on the Usage. If You are eligible you can check the Banner on Your PayTM App Homepage.
If You See the banner that means you are eligible for the PayTM Postpaid. You can Now Activate The PayTm postpaid on your account.
Now Click on the banner & Follow the Instruction And activate PayTM Postpaid to your account. Accept all the terms & Conditions.
Once You activate the PayTM Postpaid you can See the limit. Now you are ready to use the PayTM Postpaid.
Features Of PayTM Postpaid –
Instant Credit Upto Rs.25000
Instant Payment at No Charges
Shop Now & Pay later.
Shop even at Zero Balance.
Easy Activation.
No Documents Required.
Best Benefit Of PayTM Postpaid –
As You Know Paytm do not offer Discounts. It offers Cashback Which means You have to pay Full amount first & then You get The Cashback Later in PayTM wallet but with PayTM Postpaid You Can Pay Without Your Bank or Card. Just Pay Full Amount Using PayTM Postpaid & When Yu get The Cashback at the Time of Item gets Shipped. You can pay back the Postpaid Bill Easily Simple 🙂
So This means You can Convert PayTM Cashback Offers into Discount Offers 😉
PayTM Postpaid Offers –
Paytm Postpaid: Offers
Movie: MOVIEPOSTPAID Flat 125 Cashback On 300
Shopping: FASHIONPOSTPAID Flat 100 Cashback On 500
Food: FOODPOST upto 100 Cashback
Travel: TRAVEL15
Update –
Now You can pay to paytm merchants using PayTm Postpaid
How To Use PayTM Postpaid (ref)-
When you activate PayTM Postpaid. You are ready to use PayTM Postpaid.
During the PayMent of PayTM Shopping & Recharge or bill payment. You can See another Option as shown below.
Or you can Visit in Payment Setting >> Postpaid
You can Select the Option & "Postpaid option" & Pay using it.
You Wallet limit will be deducted and Your Payment will be processed.
Now You can pay The Postpaid balance later.
How To Pay Using PayTM Postpaid –
Paying Through PayTM Postpaid is as easy as paying through PayTM Wallet.PayTM Postpaid is not available on Purchase of PayTM Gold & Money Transfers.
Select any Product or Recharge & proceed to payment Page.
Here You can see PayTM Postpaid Option With Your Limit.
if You have available balance in Your PayTM Postpaid. You can Pay using it.
Once You Pay Your limit will be Decreased, You can pay it in 1 month 7 days.
What are the Charges for PayTM Postpaid –
PayTM Postpaid is available for Free for All of the users. There are no Charges for using this Service. You can Get a Credit Limit Which means You can use the Amount which is Shown to your account.
Once You pay from the PayTM Postpaid. You will Get the bill generated on next on 1st of next Month & You have to Pay the amount till 7th of the month. If You don't pay You will be charged according to the below table.
| Upto Rs.50 | 5 |
| --- | --- |
| 51 to 100 | 10 |
| 101 to 500 | 50 |
| 501 to 1000 | 100 |
| 1001 to 2000 | 200 |
| 2001 to 5000 | 500 |
| >5000 | 600 |
How To Increase PayTM Postpaid Limit –
PayTM Postpaid is available for almost all verified customers. If you have not done Your KYC. You wallet limit will be Rs.500-700 and if You have done Your Full KYC with Agent or Adhaar Number You will get Instant Credit of Rs.5000-25000. As you see in the Images. We have Got Credit of Rs.25000 . So Try in Your Full KYC Account.
What Happen if You Don't Pay Your Postpaid Balance –
If You Don't Pay Your PayTM Postpaid Balance After Your Grace time is Expired. You will be charged as Shown above. If you don't pay with above charges. PayTM will deduct Your Wallet Automatically in case. If You keep Your Wallet balance Zero then they have Your Details & Rights to Call & SMS you for Paying Your Bills & Taking Legal Action against You. SO Don't think You can Cheat with PayTM
Detailed Payment Charges –
Default Interest and Late Payment Charges:
Monthly Rate: 3% | Annual Rate: 36%
i. Default interest will be charged if the Total Amount Due is not paid by the Payment Due Date. Such default interest will be charged from the Payment Due Date till such time as the outstanding amounts are paid in full.
ii. The default rate of interest shall be 3% per month on the Total Amount Due and 36% per annum subject to revision from time to time, depending on factors such as but not limited to, credit history, purchase patterns, payment behavior and month-on book.
ii. Late payment charges will be applicable if the Total Amount Due is not paid by the Payment Due Date.
In the table given below, it has been assumed that the Total Amount Due during the previous month has been paid within Payment Due Date and there is no outstanding amount. The account statement date is 1st of every month. Given these assumptions, default interest and late payment charges levied will be calculated as below:
Purchase on 25th April, 2017: ₹ 5000
Total Amount Due on statement dated 1st May, 2017: ₹ 5000
Payment due date 15th May 2017: ₹ 5000
Purchase on 10th May 2017: ₹ 1000
ICICI PayLater Facility access temporarily blocked on 15th May 2017
Payment on 25th May 2017: ₹ 4000
On statement dated 1st June 2017, following default interest charges will be levied:
Default Interest calculations @ 3% per month for ICICI PayLater Facility
a. Default Interest on ₹5000 for 9 days (from 16th May 2017 to 24th May 2017): ₹ 44
b. Default Interest on ₹1000 for 7 days (from 25th May to 31st May 2017): ₹ 7
Default interest debited from ICICI PayLater Facility on 31st May 2017: ₹ 51
Late payment charge debited from ICICI PayLater Facility on 1st June 2017: ₹ 50
Applicable taxes will be levied on interest charges & late payment charges
Conclusion –
PayTM Postpaid is free of Cost if you pay on time. this service is helpful when you have 0 wallet balance. Also, You Can Pay Faster Using PayTM Postpaid so I will recommend activating Postpaid. You Don't need to upload any document or any Photo ID all You just need to do is Click on Banner & Activate it.