Exchange Products :- Hey there. Welcome to BigTricks. Hope you guys are having fun looting deals that we post. This a help post. Many people were having confusion as how can they exchange their phone from Amazon. Some days ago, Amazon was offering many great deals on phone exchange offers. Some people, inspite of knowing, missed these deals inspite of the fact that they wanted to because they had confusions regarding Exchanging Products. It's really simple. There's no maths or anything in it. Exchange offers are available on many Mobiles, Tablets, Laptops, ACs, TVs, Washing Machines and Refrigerators only.So, let's get started with post.'
Available Higher Exchange Value Phones –
Vivo V7+ – Click here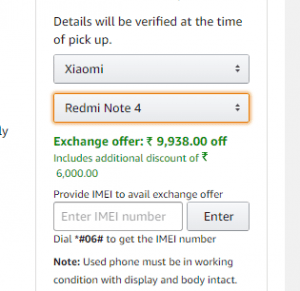 How To Exchange Products From Amazon:-
Search for the product you are looking to purchase.
Now, select your delivery location to check if exchange if available at your place or not. Remember Exchange Offer is currently available in selected pin codes only. You should keep this in mind.
Now, on the product detail page, look for 'With Exchange' option. Every product is not available for exchange.
Click on 'With Exchange' if it's available.


Now, you will be asked to enter some details about the used product (that you wish to exchange new product with).
In case of Mobile phones or Tablets, you'll have to select your mobile brand and model and enter your IMEI number (you can check it by dialing *#06# in your mobile) to avail the exchange offer.
In case of Laptops, TVs, ACs, Washing Machine or Refrigerators, you'll have to select your product brand and model and it's condition.
After doing this, you'll your product exchange value. You can get that amount of discount if you proceed with Exchange Offer.
Click on 'Buy Now With Exchange' and proceed with the purchase.
Now place the order like you normally do.
At the time of delivery, the courier boy will pickup the old product and deliver your new product. Done.
Some FAQs :-
What should be the condition of my used product that is to be exchanged? If you are returning a Mobile, Laptop or TV, such Used Product must be in working condition, and the display / screen of the Used Product should be intact, that is without any scratches, cracks, discolouration, spots, lines, dead pixels, or any other damage of any manner. Please remove any scratch-guard, screen-guard, tempered-glass, or other protective covering applied to the screen of the Used Product device. The used product should not be damaged, broken, or otherwise tampered with. The used product should match the details entered while placing the order (with Exchange) and will be validated by the delivery associate. You must delete all personal data, sign out of your iCloud (iOS) / Google (Android) accounts, and remove any lock code or passwords.
The battery of my phone/laptop/tablet is dead and the device only turns on when connected to a charger, will my device be accepted under the exchange program? They do not accept such devices (if the battery of the device, phone/laptop/tablet, dead and it turns on when connected to a charger) under the exchange offer.
Do I need to provide original accessories and packaging for my used product? It is preferred that you provide your used product with all original accessories and packaging. However, it is not mandatory. You may complete the Exchange process without the original accessories and packaging, provided your used product meets all the other requirements.
Can I exchange more than one used products to buy one new one? No, you can exchange only one used product per new product.
How can I get my used product back? Once a used product has been picked up from you, we will not be able to return it as it would have already been collected and processed by our third-party buyback partners. In case you have returned your order for a refund, subject to Amazon.in's return policies, an Amazon Gift Card (issued by QwikCilver Solutions Private Limited) equivalent to the Exchange value will be credited to your Amazon.in account. See Exchange Offer – Terms and Conditions. In such a case, the Amazon Gift Card will be credited to your Amazon.in account within 3 days of the date of acceptance of return of your order and the refund amount for the remaining order amount will be refunded to your payment method as per Amazon.in's return policy.
I see two IMEI numbers on my phone, do I need to provide both for exchange? No, you need to enter only one of them at the field for the IMEI number.
15. Why do I see a different exchange value at different pin codes? The exchange offer you receive on Amazon.in and the proposed exchange value is provided by third party buyback partners. The offer may vary depending on the brand and model selected, your delivery location and availability of the offer by the buyback partner at the time of placing the order. While we strive to connect with various buyback partners to provide the best value to customers, the offer you see may vary depending on the above mentioned factors.