Hello Friends, IPL is on and Winnings too. Many People are earning Money With Fantasy Sports in India. There is Certain Strategy which needs to be followed to win big Amount in Fantasy Sports so Stay Tuned in This Article I will share my Complete Experience of Winning a Grand League Prize of Rs.75,000, From Fanfight Fantasy Apps.
Check out Top 10 Fantasy Apps in Market
During the Women's World Cup, I have won Rs.75,000 From Fantasy So here I am Sharing some the experiences how you can win big From Fantasy Sports. Let's Learn Some terms which are used in Fantasy Cricket Apps.
What is Fantasy Sports & Fantasy Cricket?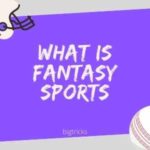 Fantasy Sport is kind of Game where You make a Fantasy Team by Choosing 11 Players which are playing in the current or upcoming Matches. You get points for every run, Every Catch and Milestones based on it, You get a rank and Based on ranks You win the Prizes. There are multiple kinds of leagues like Grand League [GL]. Small League[SL]. Head2Head[H2H], Live Fantasy etc. We will discuss each in below sections
What is Small Leagues in Fantasy Sports Apps?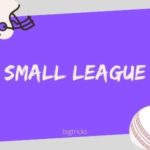 Small Leagues and Grand leagues are somehow Similar but the difference here is the players, generally, Small leagues have players in 100s. So here competition is lower than the grand league and more chances of winning but the prize amount is also lower.
What is Head2Head League in Fantasy Sports Apps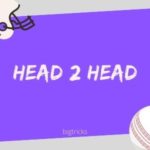 Head 2 head leagues are the league where only 2 players fight, You just have one competitor and you need to compete with the opponent if you score higher then you win else you lose the complete amount and this is how the most player just double their money as it's easier to compete with one player then a thousand players.
What is Grand League in Fantasy Sports?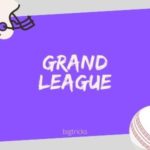 Grand League is a league where around 20 Lakhs or 30 lakhs Plays in a League, This number can be different for different apps based on their users strength but The Prizes here are in lakhs or crores for example in IPL Dream11 Grand League has a winning Prize of Rs.1 Crore. There are Prizes for like 60-70% Top So now when you know about types of leagues in Fantasy Cricket or Fantasy Sports app so now Let's see what strategy you need to follow to win in all kinds of leaguesRankers in Grand Leagu
e,  How Can You Win in Grand Leagues Check blower sections. 
So now when you know about types of leagues in Fantasy Cricket or Fantasy Sports app so now Let's see what strategy you need to follow to win in all kinds of leagues
Popular Fantasy Sports App in India
If you want to Play Fantasy Sports then we have Already Published about Top 5 Fantasy Sports Apps in India and THose apps are 100% trusted and verified by us. You can try those Apps. we have Added mini list also. You will Also Get Referral amount from each fantasy App
How To Win in Grand Leagues
Do Proper research about the game

When a Match Start, You need to do proper research about the Game, Pitch, Players and the weathers, All these factors can affect the game and your winning chances. If You Don't know more about it, Then You can Join our Team Prediction Channel on Telegram To Get Free Pitch Report & The Team Suggestion

Join With Multiple Teams

You can Join With Multiples teams in Grand League and you should always join the grand league with multiple teams If you are looking to win the first prize because In a team taking all Players is not always possible and you want to go with multiple teams to try all options.

Don't go with People's Choice If you want to win the grand prize

It's always recommended to make your team unique, now you can check which player Is chose by people and how much per cent it was chosen. But Just think about it, If you chose according to Other People's count then You will not gonna top, This strategy does not work always but it works for me.
How To Win in Head 2 Head Leagues
Winning Head 2 Head Leagues are relatively simple and at the same time, it's tough too. The result in Head 2 Head Leagues are like Win or Lose unlike Grand league if you rank lower then there is still chances of winning but in head 2 head there is always 2 team so Either you win or you lose. So Join Head 2 head only If you willing to put your money on your team and You are so Sure on it.
but at the end of the day it's match and You can't predict it correctly anything can happen during the match, So yeah It's a little bit risky
Now It's time where I will share How I won Rs.75,000 Grand league from Fanfight App During Women's T20 World Cup
How I Won Rs.75000 From Fanfight Grand League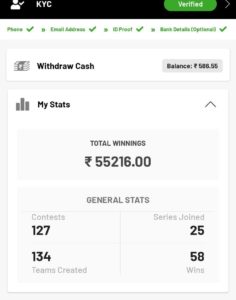 There was a deduction of Rs.22000 something as 30% tax needs to be paid. So Finally I got Rs.52000 something in my Bank Account
If you are thinking that I did something special to win the grand league then No, I just followed my strategy shared above in the article and went with just 1 team but I chose all players uniquely and luckily the bowler I chose and made captain took most wicket which helped me to win the grand league. It was a wild guess and Yeah this was because the player was chosen lesser in comparison to other so it's kind of Risky but it did work for me