Paytm iD Fresh Food loot :- hey Guyz You might have looted many paytm cash offers Previously Paytm offered Free paytm Cash with Kitkat , Snickers and many more products .This time iD fresh food coming with a Paytm Cash yes, buy fresh food Pack and get Rs.20 Paytm cash with every pack .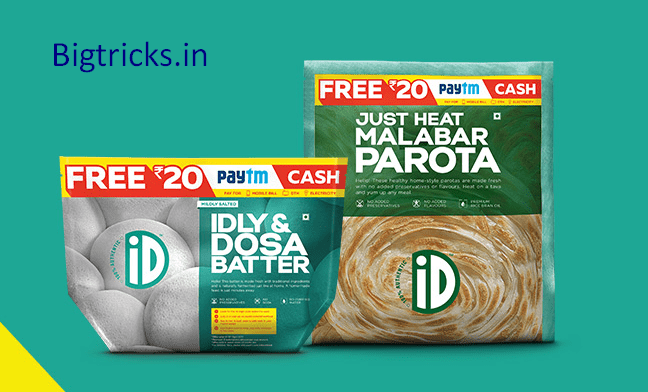 How  To Get  Rs. 20 Paytm Cash with iD Fresh Food :
Buy iD fresh Food from any nearby Local store or Bigbasket/Grofers.
After purchasse Open the Packet and you will find a Paytm code inside it.
Now visit the Paytm iD Offer Page from Here     
Enter Your code here .
Login to your account if not already .
You will Get Rs.20 Free Paytm Cash in your account
Maximum two codes allows per account.
Terms And Conditions:-
Participation in this Promotion namely, iD Fresh Food ("Offer") is purely voluntary and optional. This Offer is not valid in conjunction with any other Offer. Products also available without this Offer. By participating in this Offer, each participant is deemed to have accepted these terms and conditions.
This Offer is being conducted by iD Fresh Food in association with One97 Communications Ltd.'s ("One97 or Paytm) (collectively referred to as Organizer) on One97's platform, namely www.Paytm.com ('website'), for Products defined hereinafter.
This Offer is valid in India from till 15th May 2017 ('Offer Period') on purchase of iD Fresh Food packs referred to as "Products" and on limited stocks only
The Offer is valid for the citizens of India (except the employees and family members of iD Fresh Food and One97, their associate companies, their joint venture partners, its co-packers, their distributors, their agents, their advertising and promotional agencies and their auditors.)
After purchasing the Products, the participant is to look for the Coupon code ("Code") printed inside the pack. After retrieving this Code, the participant can participate in the Offer in the following manner and avail Paytm Cash. Paytm cash is the term used to define Paytm cash that participant gets when he applies the code on Paytm website . The cash earned this way is stored in the Paytm wallet and is used to purchase products/do recharges on Paytm website only. No cash would be given in lieu of Paytm cash.
Each mobile number and paytm account holder can avail this offer twice.
Moreover there would be a gap of atleast one hour between two paytm cash redemptions
Process

Visit the Website patym.com/idfreshfood, log in/ register at the and apply the code to receive cash into your Paytm wallet. Participants already registered with Paytm.com can also use their existing credentials to avail of the Offer.

In case of any conflict between terms and conditions printed on the pack/insert/voucher and the website, terms and conditions printed on website shall prevail
Participants can buy all products and services offered on Paytm.com or Paytm app with the cash they collect in their Paytm wallet. In case user purchases a product or service that is greater in value than the amount of cash user has collected in Paytm wallet, user would have to pay for the differential amount through any of the payment means available/accepted on Paytm. It can be used to purchase talktime or DTH recharge or purchase of physical goods after accumulation of Paytm Cash in the Paytm wallet.
Actual recharge will vary as per the top-up plan of the respective operator and is subject to applicable taxes and levies. Post paid users may pay any post paid bill on Paytm, only if they are paying their entire outstanding bill amount. Paytm/iD Fresh Food does not take any responsibility for partial bill payment being rejected by Post paid users' operator/service provider. If Post paid users' bill amount is higher than Paytm cash he/she has in his/hers account, he/she will need to pay for the balance amount through any of the payment modes/means accepted on Paytm.
The Code cannot be redeemed after the expiry of the Offer Period and you agree to waive off right of redemption on the date of expiry of Offer Period.
Paytm cash offered as part of this offer is non-transferrable, non-refundable; and no physical cash payment will be made in lieu of this. At any stage, iD Fresh Food and/or Paytm reserves their right to call upon the Participant to submit any document for verification of identity as per its sole discretion.
Neither iD Fresh Food nor Paytm.com will be liable for any delay in actual redemption under this Offer reflecting in the customers' account.
Paytm and iD Fresh Food will not be responsible for any loss or damage to the Code.
At any time Paytm and/or iD Fresh Food reserves the right to update and/or amend all or any of these terms without further notice.
iD Fresh Food and/or Paytm reserves the right to cancel, change or substitute Offer, revise the terms and conditions at any time without any prior notice.