Jindal Bullion Loot : Jindal bullion , an online merchant who deals with jewelry has come up with an exclusive launch offer where they are giving you 1g free silver on signup and 1 gram each for every referral you get to the platform.
Now you may believe or not , but This Scheme Is Quite funny I Am Also Confused But I Got 1G Silver In My Dashboard this AMy  be a Market Stregrgy But Never Teh Less Signingup Is Not A Big Deals So Just Follow The Steps.

How To Get Free 1 Gram Silver From Jindal Bullion?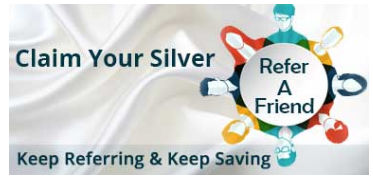 To claim your reward you need to provide & verify your KYC [Know your Customer]
Go to the offer page : Click here
(Must use this referral link to get 1 Gram Silver)

Enter your mobile number and name.

register on their site.

After you are done with the signup process , move over to the home screen.

Click on the claim silver option you see.

Now verify your number and update your address.

You will get your referral link.

Share it with friends and earn 1 gram for each successful referral.

To claim your reward you need to provide & verify your KYC [Know your Customer]


Note:-

1) Minimum Redeemption amount is 10 Grams.

2) 1 Gram Silver will be awarded to only Successful signups using Referral code.

3) To claim your Referrals you need yo Verify your KYC documents.
About The Offer On Website
You just need your name & phone number to register!!
Once you are registered, it is time to Refer, Earn, & Save!!
Refer everyone in your network!! You can either put in the details manually or simply import your contacts from your phone with a touch of a button!!
A link and an OTP will be sent to all your referrals!!
Your referrals click & register.
Tadaaa!! The moment your referral registers, you both are entitled to get 1g Silver!!
What's more!! You can keep referring and your referrals can keep referring too!! Everyone has an unlimited Silver earning & saving potential!!
About Jindal Bullions
A platform where we STRIVE to provide the best rates for buying and selling Gold & Silver bars so that you can THRIVE in the market. The gold and silver bullion bars supplied by Jindal Bullion are some of the finest available and offer long-term secure investment.
Jindal Bullion Limited is a group of jewellers who purchase Gold and Silver Bars from the world's most trusted Suppliers, Refiners, Miners, Government Banks, Multinational Banks, Nominated Government Agencies, etc. and trade them at the most competitive rates in the industry. We deal in Gold & Silver products of reputed suppliers like, PAMP, UBS, Credit Suisse, Rand Refinery, Perth Mint, etc. and all our products are 100% hallmarked.
We are the official Fabricators for MMTC Ltd. and also Importers, Exporters, Manufactures, Wholesalers and Retailers of all kind of Silver, Gold and Diamond jewellery.
Since, most of our products are imported and procured from world renowned suppliers they come with 'certification' from the most reputed assayers. Our products, accurately tested for weight and purity at reputed labs and carry a guarantee certificate from Jindal Bullion.
In order to keep our rates transparent and open to all, we run live prices for gold & silver on our website. Our purity is backed by a 'buy back' guarantee at the price running live in the 'Buy' column of our website.
We offer our services at very little markups over the international market rates. Buyers of the smaller quantities can purchase or sell according to their need, based on international market linked prices with us.
Buyers/Sellers of bullion have advantage to buy/sale gold & silver from us. As there is very little difference of mere 0.2% in the buying & selling price. We supply bullion bars in various sizes. The smaller bars or coins can be used as fanciful or absurd gift item, whereas, the larger ones are ideal for those who are looking for investment in gold or silver at the lowest premium.
Our corporate office is located in New Delhi (India) and we are also registered with ROC, DGFT, VAT, Customs, Excise Authorities in India, BIS Hallmark etc.