Jio Diwali Offer
Jio, on This Diwali, will offer 100% Cashback on every recharge you do. Jio Announced Jio Diwali 100% Cashback Offer or Jio Diwali Offer. You will get the coupon of the equal amount which you can use in Reliance Digital. The Coupons will be credited to user's my Jio Account.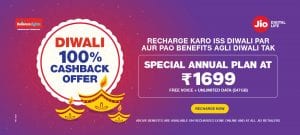 You will Get Coupons of the equal amount but in multiples of Rs.500. if your recharge amount is lesser than Rs.500 than you will get equal amount coupon and if your recharge value is larger than Rs.500 than you will get a coupon of Rs.500 & the rest of amount.
Key points Of Jio Diwali Offer –
Jio Launched Jio's Annual Plan of Rs.1699
Jio Will Offer 100% Cashback on Below amount recharges.
These vouchers can be applied on Reliance Digital Stores.
Minimum Cart value must be Rs.5000 🙁
So if you recharge with Rs.799 then you will get Rs.500+299 coupons i.e two coupons these coupons are applicable on minimum reliance digital cart value of Rs.5000 or more(This is kind of sad thing)
About Jio's New Plan – Rs.1699 for one year on Jio Diwali offer
Reliance Jio also announced New Jio Annual Pack where you will get free annual Unlimited Access with 547 GB Data & Unlimited free voice at Just Rs.1699.This also comes under 100% cashback offer. You can redeem one coupon at a time. You can recharge from Myjio App as well as other third-party apps.
Coupon Details on Various Recharges –
| | | | |
| --- | --- | --- | --- |
| Recharge Value | Value of coupons in Rs. | Number of Coupons | Validity of the coupon |
| 149 | 149 | 1 | 31-12-2018 |
| 198 | 200 | 1 | 31-12-2018 |
| 299 | 299 | 1 | 31-12-2018 |
| 349 | 349 | 1 | 31-12-2018 |
| 398 | 399 | 1 | 31-12-2018 |
| 399 | 399 | 1 | 31-12-2018 |
| 448 | 449 | 1 | 31-12-2018 |
| 449 | 449 | 1 | 31-12-2018 |
| 498 | 500 | 1 | 31-12-2018 |
| 509 | 509 | 1 | 31-12-2018 |
| 799 | 500+299 | 2 | 31-12-2018 |
| 999 | 500*2 | 2 | 31-12-2018 |
| 1699 | (500*3)+200 | 4 | 31-12-2018 |
| 1999 | 500*4 | 4 | 31-12-2018 |
| 4999 | 500*10 | 10 | 31-12-2018 |
| 9999 | 500*20 | 20 | 31-12-2018 |
My view on Jio Diwali offer-
Jio Diwali offer is not much exciting as the terms & conditions of the 100% cashback is not good and the new annual plan also has approx the same cost as the monthly plan cost so it's no more excitement. the 100% Cashback offer is waste. You can apply these coupons on Reliance digital only 🙁 and the minimum shopping of Rs.5000 is also required so it's a waste. the old offer is still better where we get equal amount voucher and can be used on recharge of Rs.100 or more – (See trick)
Final Words –
I will recommend you all to not to go for the yearly plan if you want more discount. because we get more offers often from Phonepe(this trick cost Rs.100 per Month)
You should recharge for the 3-month plan and after that wait for some offers. You can save more with bgtricks but if you are going to buy something from Reliance Digital then You should look at the offer it might help. More Jio Diwali Offers can be found here