Cadbury Jio I missed you Offer | How To Play & Win Free Data for an Year
Cadbury & Jio is back with I missed you quiz where you can answer few questions with your Bae and win Assured Prizes. You and your partner needs to answer the same in both devices, The offer is just similar to Jio Cadbury CloserThisRakhi  Offer where you were getting daily Free jio Data.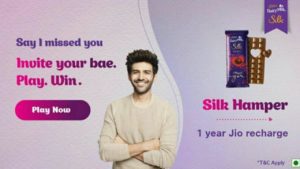 You will not get any Jio Data in this offer but you can win Vouchers for 20% off on Silk Prducts and if you playe daily then you may win Free 1 Year Jio Data Plan worth Rs.2121
So Let's See How To Play Jio I missed you Game & Get Free Vouchers & Data :
How To Play Jio Cadbury Game & Win Free Jio Data & Other Prizes –
First of All Open Your MyJio App and Check the Banner for Jio Cadbury #Cadbrury IMissdYou Banner
Download myJIo | Open Offer Page
If You Don't See the Banner You When You Can Click on More Button and Here You Can See the Jio #CloserIMissdYou Banner Where You Can Click and Start the Game

Now Agree to Terms & Conditions.

Enter Your Nickname and Proceed.

You will have Two Options to Join or Invite. You Need to Click on Invite and Ask Your Friend to Join the Game

You Friends Must be on Jio, If you have 2 Devices then open JioApp and then Enter the invite Code by entering the code in Join Button.
7. Now The Game Will Start and You and Your Bae need to Choose the Correct and Same Option to Win Both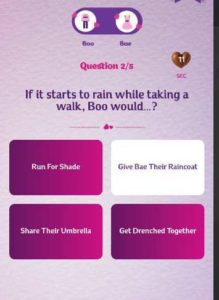 Now Once the Quiz Complete and Both of you ticked the Same Option, You will get Free 20% Off on Cadbury Purchases.

You, Will, Get the Data Within 7 Days.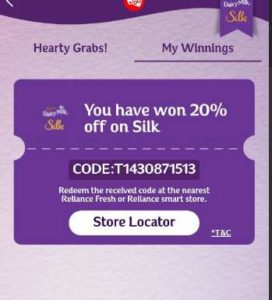 You Can Play Daily to Win More Prizes.
---
Terms & Conditions
1. 1 Year RJIL Recharge Plan worth INR 2121 will get reflected in "My Winnings" tab under 'Engage' tab of "MyJio" within 72 hours of completion of the Quiz and will be credited to the registered mobile number of RJIL used to participate in the Campaign within 7 days from the date it gets reflected in "My Winnings" tab.
2. The Offer shall be open for all Eligible Customers on and from 11th September 2020.
3. These Special Terms and Conditions shall be read concomitantly with the terms & conditions of Jio Prime Membership and CAF.
4. Two or more offers cannot be clubbed together. This Offer cannot be used in conjunction with any other alternative offer or promotion of a similar nature. For avoidance of doubt, where an Eligible Device is activated/recharged under a subsisting cashback offer of RJIL, this Offer shall not apply thereto. The decision of RJIL on the applicability of an offer to the Eligible Device shall be final and binding.
5. RJIL recognizes that the choice to be contacted for promotional messages and alerts is that of the Eligible Customer. RJIL intends to keep the Eligible Customer informed on matters relating to the Offer and any upcoming offers from RJIL for the benefit of the Eligible Customer. Accordingly, by availing the Offer, the Eligible Customer hereby consents to be contacted by RJIL and such consent shall remain unaffected by Eligible Customer's registration in the National Do Not Call ("NDNC") registry under the relevant category stipulated therefor.
6. RJIL reserves the right to cancel/withdraw this Offer at any time, without any prior intimation to the Eligible Customer. However, the benefits accrued to the Eligible Customer on or prior to the cancellation/withdrawal of this Offer, shall not undergo any change.