Hometester Club Holi Offer:Happy Holi Guys, You Must know that hometester club offers Free Sample for Testing Products.Now Hometeaster club is running an Offer with Name Holi Surprise.You have to Signup on Hometester club and Answer 5 Simple Survey Questions.You can Win Surprise Product based on Your Answers.Hometester Club is Powered By Brand Factory.At the End 5 Users will Get Free Surprise of Rs.500 Each
How To Get Holi Surprise Sample Free From HomeTesterClub:
1.First of All Visit Hometester Club From Here – Visit Now.
Please Enter Cities list to Get Free Samples Every Month(pune, maharashtra, india,calcutta, west bengal, india,bangalore, karnataka, india,hyderabad, telangana, india,kanpur, uttar pradesh, india,surat, gujarat, india,vijayawada, andhra pradesh, india,patna, bihar, india,chennai, tamil nadu, india,mumbai, maharashtra, india,visakhapatnam, andhra pradesh, india,jamshedpur, jharkhand, india,ahmedabad, gujarat, india)
2.Now Just Signup By Entering Your Mobile Number & Email ID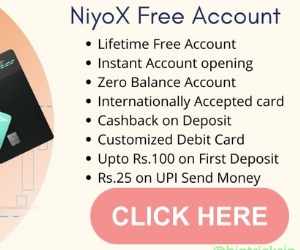 3.You will receive OTP verify Your Number using it.
4.Now You Have To Complete a Small Survey.Once You Complete You Will Be Redirected to Holi Surprise Offers.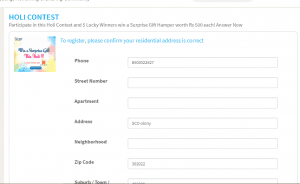 5.Now Enter Your Delivery Address and Answers 5 Simple Questions.
6.Once You Complete, You Will Get Email Notification and If You are Lucky You will Get Free Products.