Free Amazon Prime With Kitkat Pack of Rs.25
Kitkat Amazon Prime Loot, Kitkat Amazon Prime Offer, Kitkat Amazon Prime Redeem Page – Hello Friends, Kitkat comes with a crunchy deal always previously KitKat offered Free Amazon Cash of Rs.25 in Kitkat Amazon Pay Cash Offer and now THey are offering Free Amazon Prime For 3 Months Worth Rs.329. The Offer is Available with new Kitkat pack of Rs.25
Every Minute there will be one winner who will win Free Amazon Prime Membership For 3 Months and there will be A total of 720 such winners will be drawn every day, one for each minute of the 12 hour Program period between 9 AM and 9 PM [ Make Not of this Time ]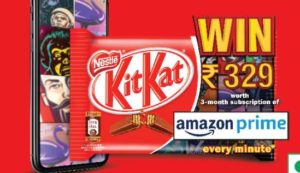 If you are one of the Lucky User then every minute you can win a Free Amazon Prime membership Voucher by Just Sending an SMS
The Best Part is You even Don't Need to Purchase Kitkat For that, Just Copy Lot Number of Kitkat and Send SMS [ You need Lot Number Only? ] 🤣
How To Redeem Kitkat Amazon Prime Offer :
First of All, Purchase a Kitkat From your nearby Grocery Store or Just Get the lot number from the packet.
Now Open Your Message box and Send SMS in Below Format.
SMS KITKAT [LOTNUMBER] & Send It to 9902391200
For Example SMS KITKAT 02430454A1 to 9902391200
Now You just need to wait for a few minutes, If you are the lucky user then you will get an SMS like shown below
Now Follow Below Steps to Redeem the Free Amazon Prime Membership
This Offer is valid once per user/Mobile number and amazon account.
---
How To Redeem Kitkat Amazon Prime Code:-
Kitkat Amzaon Prime Lot Number – 01980454B1
Once You Send the SMS & Got the Coupon Code From Kitkat
Now there will be a link, click on the link and Activate Your Amazon Prime by Adding your card.

Else You can Apply the Promo Code to the Amazon Prime Order page and avail the offer.
From Where You Can Buy Amazon prime Offer Kitkat Online :
The Stock will be refreshed soon to smaller cities meanwhile you can buy Kitkat online for fresh Stock from Amazon/Flipkart/Bigbasket/Bigbazaar etc.
Amazon – Buy Now
Kitkat Amazon Prime offer Validity
The Kitkat Free Amazon Prime Offer is Valid From 15/08/2020 to 13/09/2020.
Amazon Prime Kitkat Offer Winner List
Kitkat Amazon Prime Lot Number
01990454B1
01980454B1
Kitkat Amazon Prime Proof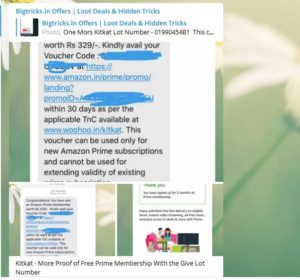 Amazon Kitkat Offer Terms & Conditions –
 These terms and conditions apply to KitKat Amazon Prime Consumer Benefit Program (hereinafter referred to as "Program") for voluntary participation of consumers, sponsored and launched by  Nestlé India Limited (Nestlé India), having its registered office at 100 / 101, World Trade Centre, Barakhamba Lane, New Delhi – 110 001 and conducted by QwikCilver, having its office at No. 111, 1st floor, "Brigade Manae Court", Industrial Layout, Koramangala 5th Block, Bangalore 560095 (hereinafter referred to as "Agency") wherein consumers can participate by sending an SMS of the 10 digit alphanumeric Lot No. (herein referred to as the "Code")printed under the seal of KITKAT  4 Finger  37.3g(hereinafter referred to as the "Consumer Benefit Program Pack").

 The Program is valid only in India from 15/08/2020 to 13/09/2020 (hereinafter referred to as "Program Period"). The Program is valid throughout India (except the State of Tamil Nadu). The Program is open to Citizens of India only.

During the Program Period Amazon Prime membership of 3 months worth Rs 329/- shall be awarded to winners who will be selected for every minute in a day. A total of 720 such winners will be drawn every day, one for each minute of the 12 hour Program period between 9 AM and 9 PM.

 The Program period starts from 15th August 2020 and shall be valid till 13th September 2020. If the customer has bought a pack before 15th August 2020, then customer will not be eligible for participation in the Program until the start of Program Period (15th August 2020). All participation prior to the Program Period and after the end date of the Program Period will be considered as ineligible.

The Program is subject to all applicable central, state and local laws and regulations.

Consumers participating or seeking to participate in the Program shall individually be referred to as "Participant" and collectively as "Participants".

Regular call and message rates will apply as per the consumer telecom operator in their respective circle.

The amazon pay voucher can only be used only for new Amazon prime subscription and cannot be used to extend the validity of existing Amazon prime subscription

Winner will have to log in to their Amazon account/create a new account in order to be able to claim the Amazon prime subscription

Nestlé India / its Agency reserves the right to cancel/amend/extend the Program Period without giving any notice/intimation. No claims/questions shall be entertained in this regard.  

—–
---