MoneyTap Refer and earn:- MoneyTap App is Offering a Good Refer and earn an offer, Download MoneyTap app and Get Rs.500 Amazon Voucher for Free for just uploading KYC details for credit card approval. when your friends join under your referral link you earn Rs 100 and your friends earn Rs 500 after he verifies his full document with Pan or Aadhar number.
Read Also – Get Free Rs.10000 From groww App
you must be salaried and 23-55 yrs aged to avail this MoneyTap credit card offer
How to Get MoneyTap Refer and Earn Offer:-
1. Download First MoneyTap App from Playstore – Download MoneyTap App
2. Now Install the App and Open, grant the Permissions.
3. Now Enter Required details in App and Complete Profile.
4. Enter Referral Code: mone5lgm2
5. Apply For Credit card by Entering Email iD adhaar card No. , PAN Card no. and Other Details.
6. Now they will check your eligibility.
7. if You are eligible You will get Rs.500 Amazon vouchers as well as 2000 reward points.
How to Refer Friends And Earn Rs.500:-
1. Navigate to Three lines from a top right corner.
2. Now tap on refer and earn.
3.Copy your referral code or link
4.share with your friends
Proof-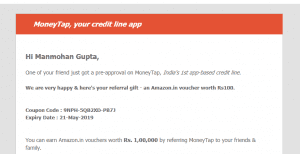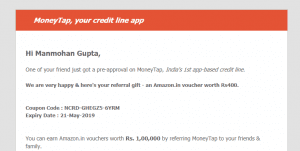 About MoneyTap  –
Any Self-employed or Salaried person Earning More than Rs. 20k Per month they Can easily Apply for Credit Card With a growing community of happy MoneyTap customers, we've been featured in many leading newspapers. Currently we are giving Free credit Card for this City users – Bangalore, Delhi, New Delhi, Noida, Greater Noida, Faridabad, Ghaziabad, Gurgaon, Hyderabad, Secunderabad, Mumbai, Navi Mumbai, Thane, Chennai, Mohali, Panchkula, Ahmedabad, Gandhinagar, Vadodara, Anand, Jaipur, Chandigarh or Pune can apply on MoneyTap but Very soon We will Provide our facility in every Indian City. Check Features –
4 Mins application, 4 documents & 5 seconds decision – No bank visits or phone calls required
 Instant eligibility; Real-time credit evaluation
Instant approval of upto ₹5,00,000
Withdraw as low as ₹3000
No Usage, No Interest
No collateral, no guarantors
Credit limit available for lifetime
Interest rates vary from 1.25% -1.5% per month, no hidden charges
Get a MoneyTap credit card (loaded with rewards and other benefits.
Pay your monthly MoneyTap credit bill right from your app
Set your card PIN right from your app
One tap to convert to EMIs Choose your own EMI terms, 2 months – 3 years
One tap to transfer money to your account instantly, 24×7
Keep track of your transactions, EMIs and available credit right from the app
100% cash withdrawal on card – First & only company in India to provide this feature
45-day interest-free period
2000 reward points on first swipe
Convert spends to EMIs with a single tap, choose from 2 months to 36 months, more power to you!
Security & Protection.
Terms & Conditions for MoneyTap App Referral code
1. Referred successfully: friend signing up on MoneyTap Mobile App with your 'Referral Code' and getting a pre-approval on completing the application. If someone uses the referral link, the code gets automatically applied for that friend
You will get the referral reward worth Rs.100 on your friend's pre-approval & another referral reward of Rs. 400 when your friend gets his/her credit line issued. If he/she cancels the application before getting line issued, you won't get the reward of Rs.400
Your bonus earning limit is capped at Rs.5,000
Only new users i.e. not already registered on MoneyTap are eligible to participate in the referral program. If someone refers to an existing user of MoneyTap, it doesn't get accounted as a successful referral. Existing users can sign in with their existing account and refer their friends for the benefits
The referral program is eligible only for those who download the app & apply for MoneyTap
In case of any malpractice, MoneyTap reserves the right to block a user for participation in the program or cancel the referral bonus earned
MoneyTap reserves the right to modify, update or close the referral program without any intimation to the participant.
Reward (voucher) will be emailed to the user within 1 month of getting eligible for the referral bonus
We request you to write to us at – mailto:hello@moneytap.com in case of any concerns
Do not promise false rewards to people (eg: A friend will not get a reward for signing up or creating an account onthe MoneyTap app. A friend who is referred will get the reward only when their line gets issued by the bank. Any false promises where he/she is misguided otherwise will result in a cancellation of reward benefits to both the referrer & referee)
Do not falsify the refer & earn information. If you are not sure how to explain, just pass on the link https://moneytap.com/referandearn to the person concerned