Hello friends, we are with a new freebie loot from Nestle just like Nestle Munch Offer and Maggie Contest. You just need to send an SMS with the lot number of the minute maid pack and if you are lucky you could win a free Oven Toaster Grill worth Rs.5000.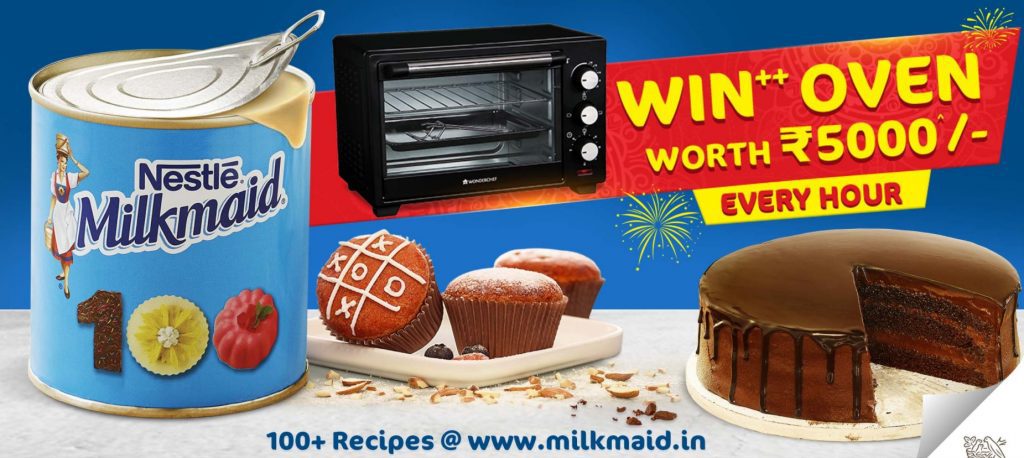 We will add the sample lot numbers of the Nestle Milkmaid pack but you will need to upload the pack photo so you can purchase a milkmaid pack from any mall or bazaar and send the SMS with that lot number. If you won please comment below and the lot number.
This offer is valid till 4th November 2021 so make sure you send the entries before 4th Nov
Nestle Win With Milkmaid Contest
Details
Rewards
Wonderchef Oven Toaster Grll
Winners
828 winners [Every Hour 1 Winner]
Offer Validity
till 4th November 2021
SMS
SMS Lot No. to 

7090670906
Nestle Milkmaid Sample Lot Number
12310451ZA
How To Participate in Nestle Milkmaid Contest
1. First of all purchase a nestle milkmaid pack from the nearby stores or marts. the pack look like below
2. Now copy the lot number from the bottom part of the box.
3. Now send an SMS in the below format to 7090670906 and your entry will be registered.
Send SMS LotNumber to 7090670906
4. Now if you are a lucky winner of the OTG prize, you will get an SMS with the details.
5. Send SMS from every number for more chances of winning.
---
Terms & Conditions
This Program is valid only in India except for the state of Tamil Nadu.
The Employees, agents, associates and promoters of Nestlé India and of its affiliates, subsidiaries and advertisement agencies (including their immediate family members) and all others directly associated with organizing the Program(s) are not eligible to participate.
This Program is open for adults above 18 years.
For Wonderchef Oven: 828 winners will be selected from ROI
All IPR rights including trademark, copyright and designs used are the property of their respective owners.
The Program is subject to all applicable central, state and local laws and regulations.
Consumers participating or seeking to participate in the Program shall individually be referred to as "Participant" and collectively as "Participants". All Entries submitted must comply with the described Terms & Conditions