Hello Friends, You might know that Onecard is my favourite Credit card as they offer many cashback offers and rewards. Now they came up with a new offer where you can earn Flat Rs.1000 daily, yes Daily Rs.1000 Flat, This is a very simple offer where you need to use the cash on online or offline stores. If you don't know what the one card is then you can read about One Card Review & Offers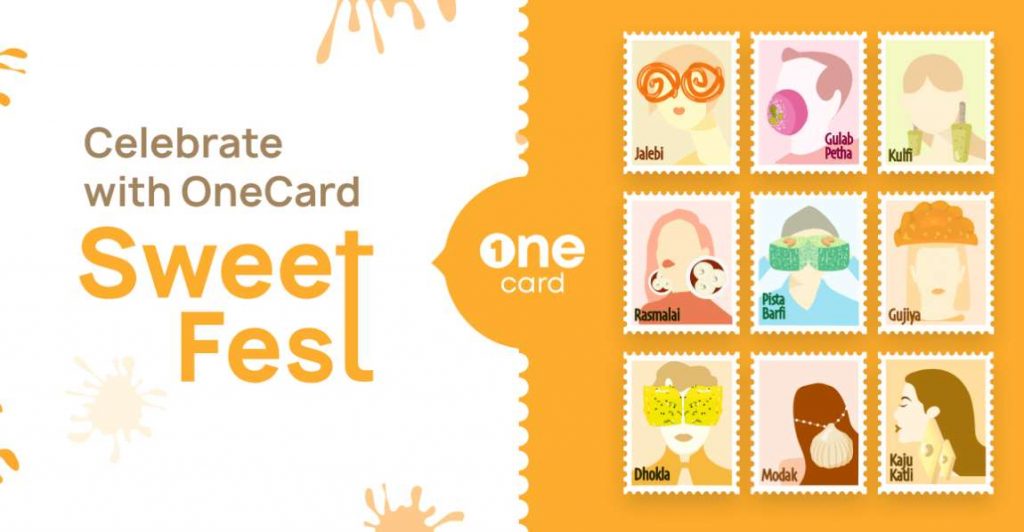 Onecard is a free metal credit card that is lifetime FREE and more rewarding, They are also offering Rs.500 Per Referral and the Best part is you get 5X Reward Points which you can use to repay the credit card payment. You can also get SBI Card Online and Earn Rs.500 Amazon Voucher
Now about the offer, There is Onecard Sweet fest is going on where you can win scratch cards by just spending money using a Credit card. You can make purchases and earn 50 Scratch cards worth Rs.1000 Daily until April 20,2021
How To Apply For One Card?
You can Apply For One card online and Get Your Instant Onecard based on eligibility. Download the One score app or read the process of getting OneCard for free
Scratch Card Rewards in OneCard Fest
| OneCard Spend | Scratch Cards |
| --- | --- |
| Purchases of Rs.500 to Rs.4999 | Win an assured stamp worth upto Rs.1000 Points |
| Purchases of Rs.5000 to Rs.9999 | Win an assured stamp worth upto Rs.5000 Points |
| Purchases of Rs.10000+ | Win an assured stamp worth upto Rs.10000 Points |
10 Points = Rs.1
How To Get Free Scratch Cards From OneCard app
1. First of all check the open your onecard app and check the offer in Rewards section.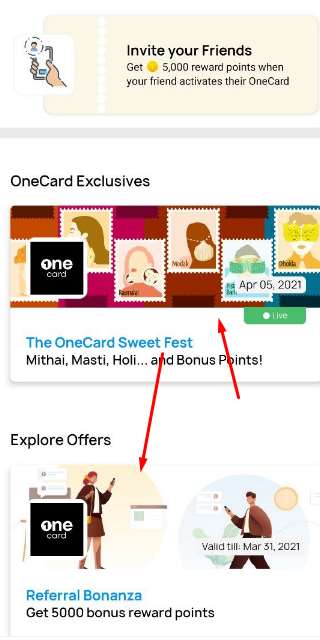 2. If the offer is available in your account then make purchase on any online site or App.
3. Make sure You are not making payment for wallet transfer like PayTM & Fuel, This offer is not valid in four categories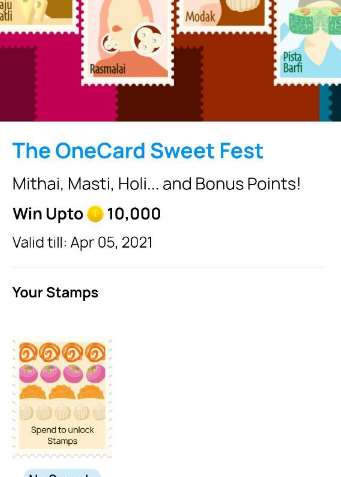 4. You can purchase amazon pay gift vouchers or shop online.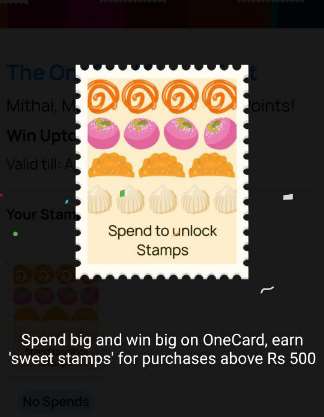 5. This offer is valid till 5th April 2021. If you earn scratch card today then it can be scratched tomorrow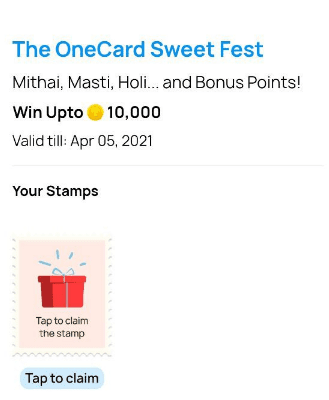 6. So Spent maximum and earn Upto Free 50 Cards.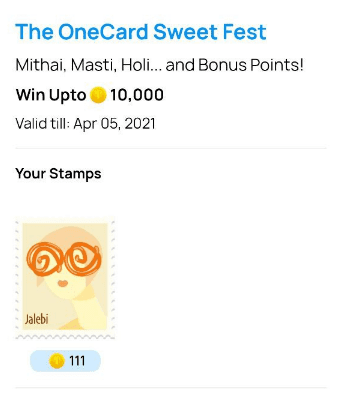 7. Also There is flat reward on Scratch card so | Loot Lo
8. You can also earn Rs.500 Per Referral until 31st march
9. You can Pay Credit card Bill Instantly using Coins
---
---
Terms & Conditions
i) The Offer will be valid between March 27, 2021 to April 5, 2021. ("Campaign Period"), both dates inclusive.
ii) The Cardholders eligible for bonus reward points will get their bonus points on April 20, 2021.
iii) In case a transaction is made void by the merchant by reversing the same, then the transaction will be disqualified and Cardholder will not be eligible for bonus points.
iv) Only regular purchases across any category as defined in the OneCard app and Terms and Conditions will be considered as eligible for this offer.
Transactions done for money transfers, rent payment, fuel transactions, cash withdrawals, digital wallet loading or top-up transactions, and media spends (like on Google/FB Ads etc) will not be eligible for this offer.
Sometimes, when the Cardholder purchases a service/product on a digital wallet app, which also offers in-app purchases, the Cardholder may not get reward points, as it involves actual wallet load, which is then used to make payment to the merchant. Such transactions will also not be eligible for this offer.
v) Participation in the Offer is on a voluntary basis and the Cardholder is not bound in any way to do so. The Offer is non-transferable, non-binding and non-encashable.
vi) We reserve the right at our sole discretion to disqualify any Cardholder who does not meet the Offer requirements or in case of any other reasons including but not limited to, any misuse of the Offer or fraud or suspicious transaction/ activities for the purpose of availing the benefits.
vii) A Cardholder can win up to 50 stamps during the campaign period.
viii) Other Terms and Conditions of OneCard Rewards Programme and OneCard Terms and Conditions remain unchanged and are binding on the Cardholder.
ix) The Cardholder agrees that his/her participation in the Offer constitutes his/her understanding of, and agreement to these terms of the Offer. These terms of the Offer form a binding legal agreement.
x) Bonus points earned during the Campaign Period will not be eligible for 5X boost irrespective of the spend being in top category.