Hi There. Welcome to BigTricks. We are back with a new great loot. You guys might have taken part in OnePlus December Dash Contest. OnePlus is back with an offer like that. After the huge success of OnePlus 5, they are now going to launch OnePlus 6 ?. Every tech lover is waiting for its coming. You might have heard about it in news. I can say that OnePlus 5 is going to be freekingly successful. As a promotional offer, OnePlus is offering a contest – Stock Photo Blind Test Contest. They are giving away free Bagpacks, T-shirts, coupons and brand new OnePlus 6 mobile phone 🙂 Contest is quite simple. You can easily take part in it. You have to just choose one of best four photos displayed. Simple, right?If you have taken part in the previous OnePlus contest, take part in this too and try your luck. Follow the steps and below and take part in this loot offer.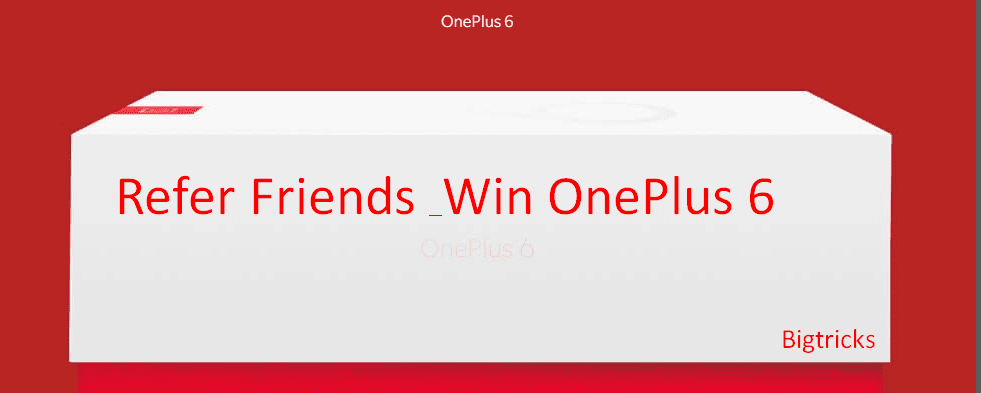 How To Participate In OnePlus Stock Photo Blind Test And Win OnePlus 6:-
First of all, go to the offer page by clicking on this link –

Click Here

You can find details about the contest on this page. Scroll a bit down and click on

Vote Now

On the next page, Sign In with your OnePlus Account or to make things easy, use your Facebook/Google account to Sign In.
After this is done, click on

Vote Now

again.
A page with 4 images will open. These are the images taken from other brand mobiles. Select any one of them. Just choose the image which you like. Click on the dot below the image to select it.

Now, Click on

Confirm Your Choice

and after this, click on Draw Now

If you are lucky enough, you will win something. This contest is totally on luck. Give it a try. You might win something.
Rules For Stock Photo Blind Test Contest:-
1. Starting 11th May until 14th May 2018, share the Blind Test contest details on Facebook and Twitter with your friends. The top 3 users on our leaderboard each take home a OnePlus 6.
2. The top 3 users from our leaderboard can redeem their vouchers against select variants of the OnePlus 6 from oneplus.in, once sales commence.
3. The contest will be closely monitored. Any users found cheating will immediately forfeit any points/rewards accumulated.
4. In the event of a tie between more than two users for 3rd place, the prize will be forfeited.
5. Users can only move up in leaderboard if the invited friend participates in the Blind Test.
6. The rank is updated twice every day (9:30 am IST and 9:30 pm IST) and ends on May 14th at 11:59 pm IST.
Invite And Win OnePlus 6:-
If you are popular and have many friends or if you are a blogger, share this OnePlus Contest if your friends. Top 3 persons who refer maximum number of people will win OnPlus 5.

You can get your referral URL from the offer page. Share it with your friends and good luck winning. Don't do fake refers.