Oyo Rooms – Rs.1000 off on Rs.2400 Booking –
PayTM is offering Unique code by Which you can get Rs.1000 off on Your room booking of Rs.2400 or More. Grab this deal fast before Out of stock on PaytM.You Can Buy Multiple Vouchers at a Time From PayTM
Get your unique promo code from here : Click Here
Than go to OYO WEB : 
Now Apply promo code on Oyo Website – Click Here Dwnload App
---
..
Oyo Rooms Refer & Earn – Oyo Room app is offering Rs.250 (credit) Off on First Hotel Room Booking & Rs.50 Oyo Rupee on Each Signup. You can use 100% Oyo Rupee on Hotel Room Booking. So This Means Refer your Friends & Get Free Hotel Booking. You can earn Maximum Rs.500 Oyo Rupee with Referral Offer.
The Offer is Valid from 1st January – 31st January 2019 –
How To Get Rs.250 On Signup at Oyo Rooms  –
1.First of All Download Oyo Rooms App From Here – Click here.
Apply Referral Code – MANMWM7GV (Required to Get Rs.250 oyo Money)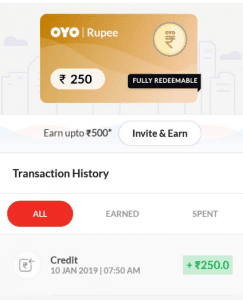 2. Now Enter Your Mobile Number & Signup to Oyo Rooms.
4. Once You Complete Signup process, You will Get Rs.250 Oyo Rupees.
5. You Can Use 100% Of Oyo Rupee on Next Booking.
6. The Cashback is Valid for the next 365  days.
Oyo Rooms Refer & earn(2019)
1. You Can See Invite & Earn Option in the footer of the Oyo App.
2. Copy Your Referral Link & Share it With Your Friends.
3. When Your Friends Signup to Oyo App, You Will Get Rs.50 Oyo Rupee.
4. You Can Earn Maximum Rs.500 Through Invite & Earn
---
(expired)Oyo Rooms Paytm Cash offers – Oyo rooms is come up with one Day New Referral Program.Oyo Rooms is Offering Rs.50Paytm Cash for Just Referring Two Friends Today & Rs.1000 Oyo Cash on Signup + Rs.1000 Oyo Cash For Each Referral.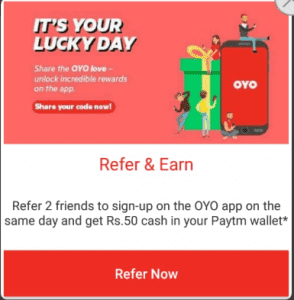 This PayTm Cash Offer is Valid only today i.e 15th June 2018 & You will Get Paytm Cash in 24 Hours.use Below Link to Get Rs.1000 Oyo Cash too. Offer Source
You Can Comment Your Referral Codes in Comments
How to Get Rs.100 PayTM Cash For Referring 2 Friends Only for Today:
First of all Download OYO Rooms from the Link.
Now Signup on Oyo Rooms by Just Entering Your Phone Number.
Now Enter Your Details Name, Email etc.
Enter Referral Code –


SONUJLBP6

Now Go to Your Account, You will get Rs.1000 OYO Cash.
Now Just go >> INVITE & EARN & Copy Your Referral Code.
Go to You Tab and Click on Wallets and Link your PayTM Wallet
Share Your Code With Friends,
Once Your Friend Join it will be added to Your List.
Just Refer Two Friends & You will Get Rs.50.
Terms & Conditions:-
What you need to do:
1. Find your referral code on the 'Invite & Earn' page on the OYO app
2. Share your code with your friends, family and groups using Whatsapp or any other medium of your choice
3. If anybody signs up using your code or by clicking on the link in your message, you will receive Rs.200 OYO Money on sign-up. Your friends/contacts will also receive Rs.1000 OYO Money on sign-up!
4. Basis the number of sign-ups you get, you qualify for the prizes listed below
Prizes (till offer lasts):
1. 2 for 100: Refer 2 friends to sign-up on the OYO app within one day and get Rs.100 cash in your Paytm wallet*
For example: If you refer two friends today between 12 am till 11:59 pm, you will receive Rs.100 Paytm cash. However, if you refer one friend today and one friend tomorrow (after 11.59 pm today), you will not be eligible for this prize.
2. 5 for 500: Get a Rs.500 worth discount on your stay at any OYO of your choice in India*
Refer 5 friends to sign-up on the OYO app within one week and you will win a Rs.500 worth free night stay.
This is a bonus prize over and above '2 for 100'. Anyone who receives a prize for '2 for 100' will also be eligible for 5 for 500 if they refer a total of 5 friends within a 7 day period.
For example: If you refer the 1st friend on Tuesday, the remaining four friends must sign-up before 12 am on the next Tuesday for you to win this prize
3. Top Daily Referrer Prize: Get the highest number of referral signups in the day and you will win a Rs.25000 gift voucher from OYO Total Holidays to use for a holiday package of your choice (previous day's winner will be announced every day at 5 pm on this page and will receive details of the prize by email and phone)
Only referrals made between 12.01 am till 11.59 pm on a given day will be counted. In case of a tie in the total count, the first person to reach the highest for the day mark will be determined the winner.
Top Daily Referrer Prize will be announced everyday starting from 15th June, 2018
To maximise your chances, share your referral code in Whatsapp groups or on social media.
This is a limited period offer extended by OYO to its guests. It is valid only for referrals made between 15th June 2018 and 30th June 2018
OYO reserves the right to withdraw or change any part of this offer without any prior notice
All prizes will be valid for a period up to 60 days from the date of declaration of the result. Guests will be required to claim the same by booking with OYO, OYO Total Holidays or any other service within the same period
A user can only claim the prize under each of these offers once. Users will not receive Rs.100 on Paytm multiple times for referring multiple new users. Similarly, 5 for 500 prize or Top Referrer of the Day prize can only be claimed once by any one user
For Paytm cashback, users will only receive the money in the Paytm wallet against the same mobile number with which user has made referrals on the OYO app
For 5 for 500, user will need to make a booking on the OYO App and the amount of Rs.500 will be automatically adjusted within 4 hours as a 'Complimentary Stay'
For Top Referrer of the Day, one user with the highest number of referrals between 12.01 am and 11.59 pm of that day will be selected to receive the prize of a Rs.25,000 gift voucher from OYO Total Holidays