Paisawapas Giftcard Purchase Offer – Paisawapas recently started selling gift cards of Popular eCommerce Websites like Amazon, Flipkart & PayTM. Now Paisawapas is offering Rs.33 Cashback on 5 gift card purchase of Rs.50. You can get Rs.10 on the FIrst transaction of Rs.50 & later Rs.20 more on next 4 transactions through PayTM UPI(@paytm). This offer is valid till tomorrow only so grab this offer as soon as possible. The Cashback will be credited in PayTM wallet instantly or in 24 hours.

Pro Tip – You can buy Rs.50 Paisawapas Vouchers for now & later use them to Buy PayTM Gift cards. PayTM gift cards will be available after this Offer.?You can Also Get Upto Rs.100 With PayPal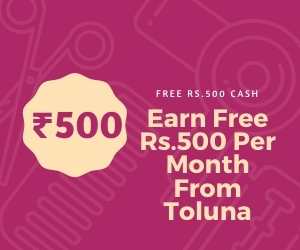 How To Buy Paisawaps Gift cards & Get Rs.25 PayTM Cash –
First of all visit paisawapas or Download Paisawapas App from Playstore –

Download Now

Now Visit Gift card section & Buy gift card worth Rs.50 or more (any)
Proceed to Payment & Only Pay using PayTM UPI(@paytm)to Get Cashback
After the Transaction, You will Get Paytm notification to claim Rs.5or continue
You can do two more transactions & another Rs.20 cashback so this equal Rs.25 Cashback.
Do hurry, the offer is valid till tomorrow.
Terms & Conditions –
– Offer is valid on Minimum order value of INR 50 and above per transaction on PaisaWapas.com.
– Offer is valid only once during the campaign period.
– Offer valid from 19th Feb 2019 12:00 hrs to 21st Feb 2019 11:59 hrs.
– Offer valid for online order on PaisaWapas website and Mobile application. Offer is not valid on any other third party apps/websites.
– This offer is only valid only on payments made via Paytm UPI using Paytm UPI ID ending with @paytm. Payments for all transactions must be made from the same UPI handle. Any payment done through Paytm Wallet or any other mode apart from UPI will not be counted for cashback processing.
– After your first payment, you will get a push notification to participate in " 3 Pe 33 Paytm UPI Offer on PaisaWapas ".
– You can either claim Rs 10 after 1st transaction or you can make 2 more payments at PaisaWapas using Paytm UPI within 3 days to get Rs 33 cashback after participating in the offer.
– A user can make maximum 3 transactions per day only.
– If you do not participate in the offer your transactions will not get linked in the offer.
– You can avail this offer only once during the campaign validity. If you fail to complete the offer after participating in it, your offer will be expired. All expired offers after offer participation, will also be included in maximum limit stated.
– Cancelled transactions will not be eligible for Cashback.
– Cashback will be credited to your Paytm wallet within 2 days of completion of offer or claiming cashback after 1 transaction.
– If you have not completed your KYC or have breached your monthly wallet limit, you will receive Goldback (inclusive of 3% GST).
– Paytm solely reserves the right to change offer terms at any time without prior notice to the customers.
– All escalations to be handled by PaisaWapas and to be forwarded to Paytm internally for resolution