Paypal On this Diwali Crediting Rs.200 Voucher to Some user's account. You may & May not receive the mail for this. I have received mail from PayPal and I found that PayPal credited Rs.200 Voucher to my account. You can also Check using below steps if you got Rs.200 Wallet Cash in Paypal. You can use these credits to make a purchase on the merchants who support Paypal.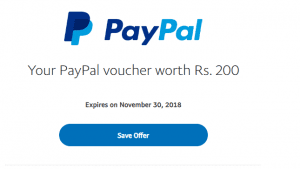 How to Check if You got Rs.200 PayPal Cash -
Open Your Registered Mail at PayPal.com or The Email Link Looks Like this

Check if You receive the mail from Paypal about Diwali offer.
Click on The Link and Now You will need to Save the Offer.
On the Screen tap on Save the offer.
You can Use these Credits For shopping on merchants which accept paypal.
This offer entitles eligible PayPal account holders to receive a discount of INR 200 off an eligible purchase with PayPal.
2. The offer is valid from 29 October to 30 November 2018 (both dates inclusive) ("Offer Period").
3.This is a limited offer, based on first come first served, available only to selected India PayPal account holders.
4. The offer cannot be transferred or exchanged for cash or other discounts/products/services.
5. Each eligible PayPal account holder may only redeem the offer once during the Offer Period.
6. No minimum spend required.
7. In order to redeem the offer, payment must be made via PayPal during checkout.
8. Notwithstanding anything herein, PayPal and its affiliates shall not at any time be responsible or held liable for any defect or malfunction in the offer, and/or for any loss, injury, damage or harm suffered or incurred by or in connection with the use of any offer by any person.
9. PayPal shall, at its sole discretion, determine the PayPal account holders who are eligible to redeem this offer.
10. PayPal reserves the sole and absolute right to disqualify any person from redeeming the offer.
11. PayPal reserves the rights to withdraw the offer and/or amend any part of the offer or the Terms and Conditions of the offer at any time without prior notice.
12. PayPal's decision on all matters relating to the offer and these Terms and Conditions will be final and binding.
13. By redeeming the offer, you agree to these Terms and Conditions.