PayTM Cashback Offers, PayTM Merchants Cashback Offers, PayTM Cashback Offers –  Hi Guys. I hope You are enjoying our PayTM Cashback Offers & Saving Money with our Super Offers. You can get more deals & offers by Joining our best loot deals offers Telegram Channel.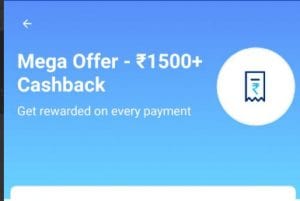 PayTM helps you to earn cashback for doing recharges, Bill Payments, Train ticket Booking, Movie Ticket Booking, Merchant Payments  & for UPI Transactions. PayTM introduced New Paytm Cashback offers Section where You can Check Latest & Good PayTM Cashback Offers. If you are using PayTM wallet then You can Save upto Rs.5000 each month. All You have to do is Check Your Latest PayTM UPI Offers & Activate them. Once You activate you can earn money by Transferring money using PayTM UPI. So Let's see what are the latest PayTM Cashback offers.
All PayTM Cashback Offers
We are Listing all the Current & Updated PayTM Cashback offers here. Note that sometimes These offers are user specific & may not available for you but if you have multiple accounts of your friends & Family. You can check them in their PayTM App. One of the PayTM's Best UPI offer was live some days ago Where Users Earned Rs.750 for Transferring Money with Every Account.
PayTM Mega Offer – Get Rs.1500 Cashback On 10 Transactions –
Hello, Friends PayTM's mega Cashback offer is here where paytm is offering Rs.1500 PayTM Vouchers for a total of 10 transactions. There are vouchers of Recharge offers, Add Money to Wallet and so on. Total 10 Vouchers worth Rs.1500.You will get a voucher on each transaction so start saving for every transaction on PayTM. The offer is valid for payments on Mobile Recharge, DTH Recharge & Bill Payments, Digital Gold, Bus, Movie and Flight tickets, Food order. You can Make one transaction each day (only the first transaction of Rs.99+ will be counted for this offer.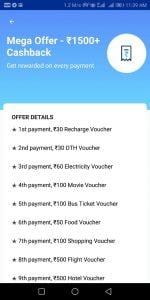 How You will Get Vouchers –
1st payment, Rs 30 Recharge Voucher
2nd payment, Rs 30 DTH Voucher
3rd payment, Rs 60 Electricity Voucher
4th payment, Rs 100 Movie Voucher
5th payment, Rs 100 Bus Ticket Voucher

6th payment, Rs 50 Food Voucher
7th payment, Rs 100 Shopping Voucher
8th payment, Rs 500 Flight Voucher
9th payment, Rs 500 Hotel Voucher
10th payment, Rs 30 Add Money Voucher
How To Avail PayTM Mega Cashback offer –
Open Your PayTM App
Click on Top Right Corner Showing PayTM Cashback icon.
In New Offers Section You can see this Offer(last).
Now Activate the offer From here.
Make Any Transaction of Rs.99 or more.
Now Complete these Steps to Get Cashback voucher every time.
---
PayTM Dairy Outlet Offer – Get Rs.500 Cashback on Dairy Outlets –
You can Get Rs.10 cashback every time you Pay to nearby Dairy Outlets like Amul, Saras, Mother Dairy etc. for the first five transactions you Will get Rs.10 Cashback on Payment of Rs.20 & after 5 Payments You Will Get Movie & other Shopping Vouchers. the Movie vouchers may have restrictions but Initial five transaction are offer. You will Get Rs.10 on Spent of Rs.20 so loot it Guys.  Don't forget to Activate the offer First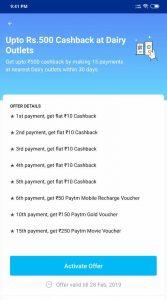 How To Avail PayTM Dairy offer –
Open Your PayTM App
Click on Top Right Corner Showing PayTM Cashback icon.
In New Offers Section You can see this Offer(3rd-4th).
Now Activate the offer From here.
Do Your First Merchant Payment of Rs.20 or More.
Now Complete these Steps to Get Rs.10 Cashback every time.
Rs.10 Will be Credited to your Wallet for every Transaction
---
PayTM 4 Pe 40 Pay at nearby Shops Offer –
PayTM is offering Rs.40 on Making 4 Payments to Nearby Shops. You must do a Minimum Transaction of Rs.50 to activate This offer. Offer is valid for One Transaction per Day. All 4 Payments should be Done to 4 Different Merchants. This Offer is Valid till 16th December means Activate This Offer before 16th of December.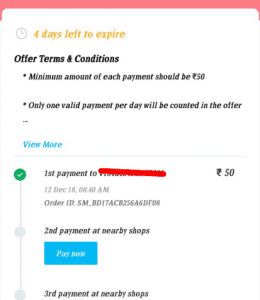 How To Avail PayTM 4 Pe 40 Pay at nearby Shops Offer-
Open Your PayTM App
Click on Top Right Corner Showing PayTM Cashback icon.
In New Offers Section You can see this Offer(Bottom last).
Now Activate the offer From here.
Do Your First Merchant Payment of Rs.50 or More.
Now Complete these Steps to Get Rs.40 Cashback.
Rs.40 Will be Credited to your Wallet for 4th Transaction