Phone Pe Or Phonepe Is A Digital UPI App . Now Phonepe Come up with a new offer .Just Send Rs.1 to anyone through UPI and get Rs.50 cashback in 1 day  which can be transfered to bank account  and easily. [button color="" size="" type="" target="" link=""]PhonePe Send Money Offer[/button].That's again a very big loot and you can loot it unlimited times as you just need new accounts and send Rs.1 only. You must be a new user to avail this offer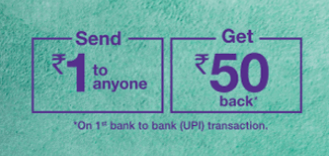 What is UPI Transaction?
UPI is a payment system that allows money transfer between any two bank accounts by using a smartphone. UPI allows a customer to pay directly from a bank account to different merchants, both online and offline, without the hassle of typing credit card details, IFSC code, or net banking/wallet passwords. Phonepe Get Rs.150 on Signup
How To Get Rs. 50 Cashback From Phonepe :-
1. Download or Update PhonePe app from Playstore: Click Here
2.nstall and Open the app and Signup for New account.
3. Now add a new bank account and link it with your PhonePe account as UPI Account.
4.You need  to do an UPI Transaction and send Rs.1 to get Rs.50 Back.
Update : Just Add your Bank And Add Rs. 1 Using UPI you will get Rs. 50 Bonus Tested 

Also Working On Those Accounts Who earlier Get Rs. 25  Cash On Signup 
send money to any of our friend or to self (another account) and get back Rs.50 instantly from Phone Pe.
5.just check your Virtual Payment Address or ask your friend for his/her virtual payment address.
How To Virtual Payment Address :
Open PhonePe app.

Scroll down and you will see Virtual Payment Address.
Just copy that. That is your virtual payment address which you will need if you want to send/receive money using UPI.
6.Once you Get the Virtual Payment Address(VPA), you can do the Send Money UPI Transaction now
7.Now Enter Amount Rs. 1
8.Click on Pay from Bank and proceed ahead.
8. Send It To The Friends VPA Address , The Money Will Directly Credit To Friends 's BAnk Account .
10.After Completion You will receive an SMS with Cashback Message .
Phone Pe Offers Terms & Conditions:
Offer will expire on 23:59 hours on 24th December 2016 or restricted to first 1 million successful transactions on PhonePe whichever comes first.
Valid only for first time users on PhonePe.
Offer is valid only once per Android Phone.
Offer is applicable only on making a successful transaction of minimum ₹1 via your UPI Linked bank account.
Offer is valid only if you send money to other PhonePe users on their mobile number or their @ybl VPA (Virtual Payments Address, an UPI identifier).
Please note that offer is not valid for direct money transfer to other bank accounts using the beneficiary's bank account and IFSC code, or external VPAs (other than a @ybl VPA).
Cashback will be credited into your PhonePe account within 1 working day.
PhonePe reserves the right to either extend or withdraw the offer anytime without prior notice.
PhonePe reserves the right to amend the terms & conditions of the offer without prior notice.
In case of dispute, PhonePe reserves the right of final decision on the interpretation of these Terms & Conditions.
These Terms and Conditions shall be governed by the laws of India. Any disputes arising out of and/or in connection with this offer shall be subject to the exclusive jurisdiction of the Courts in Bangalore only.
Frequently Asked Questions:
Will I qualify for this offer, if I send money to a beneficiary's bank account by entering their bank account # & IFSC code?No, offer is valid only for money transfers to a Mobile number or a VPA created using PhonePe app i.e. @ybl VPA.
How safe is UPI transaction?UPI is a 100% safe and secure banking solution developed by NPCI (with the guidance and approval of the Reserve Bank of India (RBI) and Indian Banks´ Association (IBA)).
Can I avail the offer twice, by registering multiple mobile #s on the same smartphone?No, this offer is only valid once per smartphone device, so we can distribute the love amongst all our fans equally.