Play Games Without Downloading Apps For Free
Play Games Online – Hello Friends, If you are getting bored & want to Play games then come on Bigtricks. Now You can play Games For Free on Bigtricks Games. We bring you Top rated & Most played more than 200+ games for Free. You can use this service for Free in Bigricks Website & Bigtricks App.
Scroll Down For the Giveaway
You can Download Bigtricks App From Playstore & Get All the Offers Including Many Giveaways On the App Exclusively. We will keep you updated with more features from time to time, Please comment below if you want any additional Feature in Our App or Website.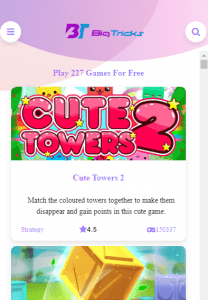 We have Posted Many Offers On gaming Platforms which you can use to earn money Like Adda52, Spartan Poker & Classic rummy But in case you want to Play Friendly games for free. You can Visit bigtricks games Link from below & Enjoy it.
How To Play Free Games online on Bigtricks Website –
1. First of All Visit bigtricks Games Page From below Button
2. Now, wait until the page loads[The first Load may take some time]. I recommend to Open the Link in Chrome Browser and Not in inApp Browser of any App For best Experience.
3. Now, Once You are on Page, You can see all the available games on Bigtricks Platform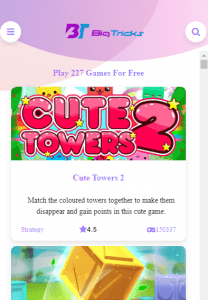 4. Choose any Game that You want to Play or Search for the Game that You want to Play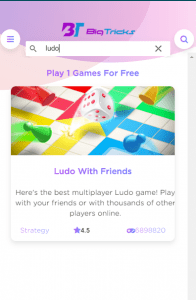 Click on Skip, If You see any Ads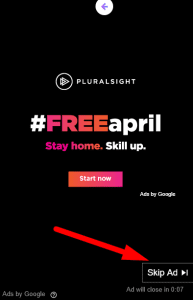 5. Now The Game Will Load in Your Mobile Browser Full Screen. You, Will, get Full Screen in Chrome browser
6. Now Enjoy by Playing Games for Free & have Fun.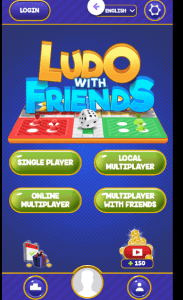 7. Do not forget to share with your Friends & Ask them to Play With you.
8. The Games are Free For Lifetime. You can Download Bigtricks App From Below Link to Access aster & Smoother Experience.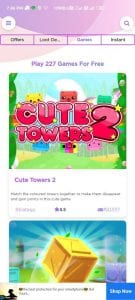 ---
Bigtricks Games Contest – Play & Win PayTM Cash :
Hello Freinds, We are back with a Play & Win Contest. Where You Will Win PayTM Cash. You Just Need to Play Below Games and Score as High as You Can, Top 3 Winners will Get the Rewards as Following.
Bigtricks Games Contest 7th July 2020: Rs.50 PayTM Cash –
Play Escape Run and Score High to Get Rs.50 Worth PayTM Cash. You need to Score High in the game Escape Run and Submit the Screenshot to our bot [Click Here] or email at bigtricks.in@gmail.com. You can Submit Your Entries Before 12 AM on 8th July.  Only One Entry Will be Counted From One user. Winners Will be Declared on 8th July 10 AM to our Telegram Channel and this Post.
| Bigtricks Games Title | Details |
| --- | --- |
| Game Name | Escape Run |
| Contest Date | 7 July 2020 |
| Number Of Winners | 3 |
| Prizes | Rs.25 for First Winner, Rs.15 For Second Winner, Rs.10 For 3rd Winner |
How To Find Escape Run Game?
First of All Visit Bigtricks Games or Download Bigtricks App


Play Games

Search For Escape Run From Search Field
Start Playing and Once You Score High Send Your Screenshot Along With Your Name and PayTM Number to our email or Bigtricksbot
Winners Will be Announced on 8th July.
For Any Details Comment Below.
Top 15 Players –
| | | | | |
| --- | --- | --- | --- | --- |
| Name | Distance in Meters | Berries | Total | Prize  |
| Mohammed Abdul Rafae [ 1st Winner ] | 2136 | 1371 | 3507 | Rs.25 PayTM Cash |
| Vishal [ 2nd Winner ] | 1429 | 939 | 2368 | Rs.15 PayTM Cash |
| Pradhuman Soni [ 3rd Winner ] | 877 | 563 | 1440 | Rs.10 PayTM Cash |
| Varun Gohar | 745 | 503 | 1248 | |
| Manas | 668 | 398 | 1066 | |
| Sam | 592 | 264 | 856 | |
| Rohith reddy | 484 | 358 | 842 | |
| Jagendra Masram | 487 | 294 | 781 | |
| Sudheer | 512 | 235 | 747 | |
| Vishnu Pratap | 398 | 275 | 673 | |
| Wahid | 384 | 223 | 607 | |
| ASHU GOUR | 314 | 170 | 484 | |
| Priyanka | 257 | 183 | 440 | |
| Pathan Sajid Khan | 180 | 87 | 267 | |
PayTM Cash Will be processed to the winner by the End of the Day.
These are the First Entry Submitted by users.
Please Suggest Next Game For Next Giveaway From Bigtricks Games  Comment Below or Send to @bigtricksbot.
Thanks For Participating in Bigtricks Games. Download Bigtricks App For Better Experience
---